Penggunaan Multimedia Dalam Mata Pelajaran Sejarah
MULTIMEDIA IN HISTORY
Keywords:
minat, pencapaian, multimedia, sejarah, pelajar
Abstract
Mata pelajaran Sejarah merupakan salah satu mata pelajaran yang kurang diminati oleh pelajar walaupun subjek sejarah kini telah dijadikan mata pelajaran wajib lulus. Justeru, kaedah pengajaran dan pembelajaran yang berkesan perlu diwujudkan bagi menangani masalah ini. Tujuan kajian ini dijalankan adalah untuk mengenal pasti tahap penggunaan multimedia dalam mata pelajaran Sejarah dan hubungannya dengan minat belajar sejarah. Kajian ini dijalankan di Mukah, Sarawak yang melibatkan 60 orang pelajar Tingkatan Empat. Instrumen kajian yang digunakan adalah borang soal selidik yang mengandungi enam bahagian. Kajian rintis telah dilakukan ke atas 30 orang pelajar dan nilai alpha yang diperoleh adalah mempunyai kebolehpercayaan yang tinggi iaitu bahagian B (.754), bahagian C (.704), bahagian D (.721), bahagian E (.773) dan bahagian F (.863). Analisis data telah dilakukan dengan menggunakan Statistical Package for Social Science (SPSS) Version 20.0 untuk menjalankan t-test dan ANOVA. Dapatan kajian mendapati bahawa penggunaan sumber adalah berada pada tahap sederhana. Analisis inferensi mendapati bahawa tidak terdapat perbezaan yang signifikan antara jantina dan etnik dari segi penggunaan sumber dalam mata pelajaran Sejarah. Namun terdapat perbezaan yang signifikan penggunaan sumber dalam mata pelajaran Sejarah berdasarkan tahap pencapaian akademik pelajar.
ABSTRACT
History is one of the subjects that students are less interested in, even though History has now become to compulsory subjects. Hence, an effective teaching and learning methods need to be established to address this problem. The purpose of this study was to identify the level of multimedia use in the History subject and its relationship with the interest of learning history. This study was conducted in Mukah, Sarawak involving 60 Form Four students. The research instrument used is a questionnaire consisting of six parts. The pilot study was conducted on 30 students and the alpha value obtained was high reliability which are part B (.754), part C (.704), part D (.721), part E (.773) and part F (.863). Data analysis has been done using the Statistical Package for Social Science (SPSS) Version 20.0 to run t-test and ANOVA. The findings show that resource utilization is at moderate level. Inference analysis found that there was no significant difference between gender and ethnicity in terms of resource use in History subjects. However, there are significant differences in the use of resources in History subjects based on students' academic achievement levels.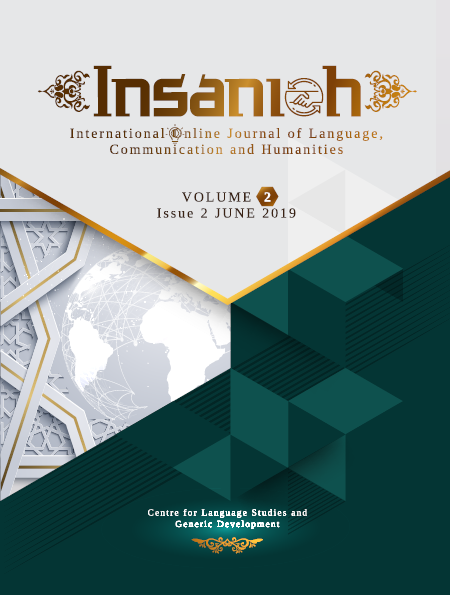 How to Cite
Abdul Talib, N. S. ., Awang, M. M., Abdul Ghani, K. ., & Yusuff, N. A. . (2019). Penggunaan Multimedia Dalam Mata Pelajaran Sejarah: MULTIMEDIA IN HISTORY. International Online Journal of Language, Communication, and Humanities (INSANIAH), 2(2), 86–98. Retrieved from http://journal.umk.edu.my/index.php/insaniah/article/view/132