Unlocking Rural Economy Growth through Digital Economy: Study Of Online Payment Acceptance Among Rural Retailers In Kelantan.
Keywords:
Digital economy, online payment, UTAUT, Rural economy
Abstract
Digital economy has become an essential key to unlocking rural economic growth in Malaysia with the launch of the Malaysia Digital Economic Blueprint (MyDIGITAL) by the government in February 2021. Online payment is a vital component of the digital economy and should be feasible even in rural areas since more than 80% of rural households had access to mobile broadband in 2019. Nevertheless, many are still using cash-based payments to make purchases. Thus, this study aims to observe online payment acceptance, particularly in Kelantan, from the rural retailers' perspective. The Unified Theory of Acceptance and User of Technology (UTAUT) was applied by observing three determinants of behavioural intention to adopt online payment and a quantitative research method, i.e. questionnaire distribution via social media (Facebook) to 384 respondents, was used. The results were analysed using descriptive analysis, reliability test, and Pearson's correlation analysis. Among the three variables examined, only two significantly affected rural retailers' behavioural intention to adopt online payment, namely security and performance expectancy. With this information, the government could prepare more targeted, proactive design interventions (e.g., training, marketing, etc.) for rural retailers who are reluctant to use online payment. Hopefully, this research can help online payment services offered in rural areas and the implementation of MyDIGITAL to unlock rural economic growth. Besides, the aim is to inspire future researchers to continue this study with more extensive and complex research.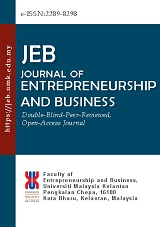 Downloads
How to Cite
Karnadi , L. ., & Kurniawan , Y. . (2021). Unlocking Rural Economy Growth through Digital Economy: Study Of Online Payment Acceptance Among Rural Retailers In Kelantan. Journal of Entrepreneurship and Business, 9(1), 58–71. https://doi.org/10.17687/jeb.v9i1.417