A study on the relationship between motivation factors and career choice among undergraduate students in Malaysian Private Universities
Keywords:
Career Choice, Motivation, Intrinsic, Extrinsic, Interpersonal
Abstract
Career choice is one of the most critical decisions for undergraduate students as their choices determine their future role in the society. This study examined motivation factors such as extrinsic, intrinsic, and interpersonal factors towards career choices of undergraduate students in Malaysian private universities. This study focused on undergraduate students because most of them will enter the workforce after graduation. A set of questionnaires was distributed to 206 undergraduate students. The collected data were analysed using Statistical Package Software for Social Sciences (SPSS, version 22.0). The findings indicated significant relationships among extrinsic and interpersonal factors that contributed to the respondents? career choice. However, intrinsic motivation had no significant relationship with career choice. It was suggested that the management at the university should integrate programs for quality assurance to ensure graduates employability.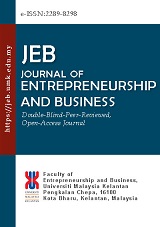 How to Cite
Abd Malik, I. ., Mohd Said, H. ., & Munap, R. . (2021). A study on the relationship between motivation factors and career choice among undergraduate students in Malaysian Private Universities. Journal of Entrepreneurship and Business, 6(2), 11–23. https://doi.org/10.17687/jeb.v6i2.428