Attitude, Perceived Usefulness and Perceived Ease of Use towards Intention to Use M-Commerce: A Case of Grocery Shoppers in Kuching, Sarawak
Keywords:
Perceived Usefulness, Perceived Ease of Use, M-Commerce, Intention to use
Abstract
In this digital era, technology has a crucial function in lives of many people. Mobile devices, in particular, have become an important product to many individuals and have been expected to further increase in their usage. The fast expansion of electronic commerce (e-commerce) application and wireless technology in Malaysia has given birth to a new electronic marketing idea known as mobile commerce which also known as mobile commerce (m-commerce) where shopping is enable via mobile. Studies have highlighted the fact that m-commerce is still limited despite it has been increasingly gaining momentum nowadays. The potential of m-commerce to flourish in near the future has been agreed by many scholars. Having said that, this study assessed the impact of Attitudes towards m-commerce on the relationships of Perceived Usefulness and Perceived Ease of Use with intention to use m-commerce. The findings revealed that Attitude is the most influential factor on the intention to use m-commerce for grocery shopping among grocery shoppers in Kuching, Sarawak. Implications and future endeavors are also discussed in this study.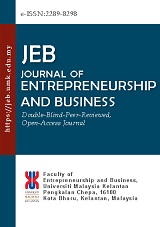 How to Cite
Kasuma, J., Abdul Razak, F. L. ., Omar, N., Abang Naim, A. S. ., Sheikh Naimullah, B. S. ., & Darma, D. C. . (2021). Attitude, Perceived Usefulness and Perceived Ease of Use towards Intention to Use M-Commerce: A Case of Grocery Shoppers in Kuching, Sarawak. Journal of Entrepreneurship and Business, 8(1), 71–84. https://doi.org/10.17687/jeb.v8i1.451