An Analysis of Service Rendered by the Malaysian Airport
Keywords:
Service quality, customer satisfaction, airport service, passenger expectation, quality satisfaction
Abstract
The airport industry is currently changing rapidly. In the competitive market, airport service providers have to create themselves differently by meeting the needs of travelers better than the competitors. This is because travelers are an airport?s main customers and their first impression of airport facilities and services may influence their feelings towards the airport. Therefore, this study aims to investigate travelers? perceived service quality of the Low-Cost Carrier Terminal (LCCT) as the overall quality would affect the decision of future travelers using the LCCT. A survey was carried out at the main exits of the LCCT after determining a list of factors affecting the airport service quality. Based on the analysis of literature, the authors proposed a system of criteria designed for measuring the quality of airport services according to five service quality dimensions. To test the relationships between the variables, the Statistical Package for Social Sciences (SPSS) is used to analyze survey data collected from 136 travelers at LCCT. The results show that travelers have various views on the service quality provided by the LCCT.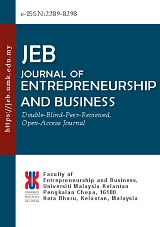 How to Cite
Nik Hussin, N. S. ., Mohd Razmin, N. H. ., & Abdul Aziz , Z. . (2021). An Analysis of Service Rendered by the Malaysian Airport. Journal of Entrepreneurship and Business, 5(1), 1–11. https://doi.org/10.17687/jeb.v5i1.64