Understanding How Gastronomy Behaviours Influence the Repatronage Intention of Malaysian Muslim Tourists' toward Japanese Street Food Vendors
Keywords:
gastronomy, Japanese street food, Malaysian Muslim, Repatronage intention
Abstract
The paper investigates the influences of gastronomy behaviours on the repatronage intention (RI) of Malaysian Muslim tourists toward Japanese street food vendors. The present literature review showcased multiple studies on street food vendors at various destinations. Despite this fact, there is a lack of information concerning Malaysian Muslim travellers and Japanese street food vendors. Notably, Malaysian Muslims love to travel to Japan due to its visa-free travel, the availability of various Muslim-friendly facilities, and its delicious street food. Street food is described as ready-to-eat food or drinks sold by hawkers or vendors in streets or any other public spaces (such as markets, fairs, or carnivals) for immediate consumption, including finger food and fast food. In general, people buy street foods because of factors such as convenience, reasonably-priced flavourful food, samples of ethnic cuisines, and nostalgia. Most importantly, street food reflects the local culture and appeals to many palates. Nowadays, savouring authentic local dishes of certain places has become a tourism trend. Moreover, statistics showed that millions of tourists have decided to revisit familiar locations to enjoy their local gastronomic culture. In fact, gastronomy is among the main factors that affect tourists' destination choices. Based on current literature, this study theorised that gastronomy attractiveness (GA) and past gastronomy experience (GE) indirectly affects the repatronage intention (RI) through gastronomy satisfaction (GS). Furthermore, gastronomy knowledge (GK) and gastronomy motivation (GM) are direct predictors of RI. In this study, the analyzed data showed significant relationships between GA, GE, and RI through GS and between GM and RI. However, GK and RI had an insignificant relationship.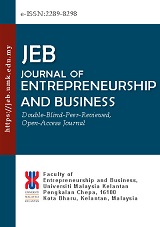 Downloads
How to Cite
Maknu, T. . S. R. ., Abdul Manan, H. ., Ariffin, S. ., & Mior Dzul Yadil, W. N. I. . (2020). Understanding How Gastronomy Behaviours Influence the Repatronage Intention of Malaysian Muslim Tourists' toward Japanese Street Food Vendors. Journal of Entrepreneurship and Business, 8(2), 72–81. https://doi.org/10.17687/jeb.v8i2.857