Perceived Government Support as an Antecedent of Attitude and Perceived Behavioural Control (PBC) Effect on Agricultural Entrepreneurship (Agropreneurship) Intention Among the Youth in Sabah
Keywords:
agropreneur, agropreneurship, agricultural entrepreneurship, entrepreneurial intention, government support, TPB
Abstract
Agropreneurship refers to producing, processing, and selling various agricultural products. Essentially, the Sabah Agriculture Blueprint 2021-2030 aims to attract more public involvement, particularly among graduates in the agriculture and fisheries sector, while lessening such imported goods. The Sabahan youth could benefit from this blueprint. Despite this significance, youth participation in the agricultural industry remains low. Therefore, this study examined the effect of the perceived government support on the attitude towards agropreneurship and PBC. On top of that, this study investigated the effect of perceived government support, the attitude towards agropreneurship, PBC, and social norms (SN) on the agropreneurship intention of Sabahan youth. In this study, 353 Sabahan youth participated in the survey. The data were analysed using Partial Least Squares-Structural Equation Modelling (PLS-SEM) 3.2.9. The results revealed that all hypotheses were significant, except for social norms and agropreneurship intention. In sum, this study could contribute to formulating policies and relevant programs, especially in increasing youth participation in agropreneurship.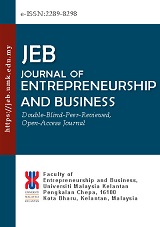 Downloads
How to Cite
Waktu Saptu , M. N. F. ., Ambad , S. N. A. ., & Sumin, V. . (2020). Perceived Government Support as an Antecedent of Attitude and Perceived Behavioural Control (PBC) Effect on Agricultural Entrepreneurship (Agropreneurship) Intention Among the Youth in Sabah. Journal of Entrepreneurship and Business, 8(2), 95–105. https://doi.org/10.17687/jeb.v8i2.859