A Preliminary Study on Examining the Determinants of Cloud Accounting Adoption for SMEs in Sungai Petani, Kedah
Keywords:
cloud accounting, cost and security, Pearson's correlation
Abstract
A preliminary study was carried out to determine the variables affecting SME business adoption of cloud accounting. A convenience purposive sample was used in this study to choose the targeted SME companies in Sungai Petani, Kedah. From May to June 2021, data was collected online using a Google form. A total of 77 respondents were noted out of the 100 Google forms that were disseminated. Pearson's correlation analysis and multiple linear regression analysis were performed on the data. The results of this study demonstrated that adoption of cloud accounting among SME enterprises was significantly influenced by cost and security. According to the findings, SME enterprises should be targeted for intense cloud accounting promotion in order to take advantage of the system's cost saving and optimum security. This will increase awareness of the benefits of cloud accounting in transforming a traditional business into a digital business. Due to the nature of this study, the findings are not generalizable. It is suggested that a more comprehensive study in Malaysia on cloud adoption should be conducted in the future.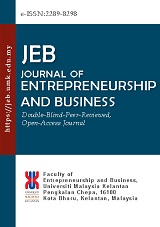 Downloads
How to Cite
Sin, T. S. ., Fathi, W. N. I. H. W. M., & Xin, . J. O. T. . (2023). A Preliminary Study on Examining the Determinants of Cloud Accounting Adoption for SMEs in Sungai Petani, Kedah. Journal of Entrepreneurship and Business, 11(2), 21–34. https://doi.org/10.17687/jeb.v11i2.922