The Decision Factors in Online Food Delivery Services Selection during the COVID-19 Pandemic
Keywords:
Safety, Time, Convenience, Price Value, Online Food Delivery Services, COVID-19
Abstract
An infectious disease known as Coronavirus disease 2019 (COVID-19) has caused a worldwide health disaster. This issue also significantly impacted the world economy, including Malaysia. The government encourages business operators to shift to online business services to control the spread of the COVID-19 virus. This has caused most businesses, especially the food industry, to change their strategy by operating their company on online platforms. This research investigated the decision factors in online food delivery service selection, specifically amidst the COVID-19 outbreak in Malaysia. To achieve the study's objective; descriptive analysis, reliability analysis, correlation analysis and multiple linear regression analysis were applied. Safety, time, convenience and price value were the four factors examined. The result discovered that safety, time and price value significantly influence the selection of online food delivery services amidst the COVID-19 pandemic in Malaysia. Among those variables, time was the strongest explanatory factor. The findings of this study may assist the food distribution companies in Malaysia to improve and enhance their service quality to cater to various consumers' preferences.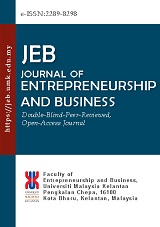 Downloads
How to Cite
Pazil, A. H. M., Amran, N., & Hussin, K. C. . (2023). The Decision Factors in Online Food Delivery Services Selection during the COVID-19 Pandemic. Journal of Entrepreneurship and Business, 11(2), 45–55. https://doi.org/10.17687/jeb.v11i2.936