TEKNIK 1 SEMAIAN BATANG BAGI PEMBIAKAN BAKA SUKUN WARISAN 1890 PULAU AMAN: APLIKASI PEMBELAJARAN BERASASKAN PROJEK (PBP)
Keywords:
Sukun Warisan 1890, Teknik Biak Baka, Teknik batang tanah campuran, Teknik akar anak Semaian, Peratusan Kejayaan, Breeding technique, Mixed Soil Stem Technique, Nursery root technique, Fertilizer water stem technique, Growth, Percentage of success
Abstract
Kertas kajian ilmiah pembangunan tiga (3) teknik biak baka asal sukun warisan 1890 ini berdasarkan ujilari teknik semaian batang pembiakan baka pokok sukun melalui perlaksanaan konsep pembelajaran berasaskan projek (PBP). Kajian berbentuk pembangunan teknik dan persampelan melalui pengaplikasian konsep PBP melibatkan tiga (3) kumpulan kerja yang terdiri 2 ahli bagi setiap kumpulan kerja projek biak baka sukun warisan. Pembelajaran berasaskan projek akan digunakan bagi tiga kumpulan kerja melalui 3 fasa gerak kerja merangkumi Fasa 1: Penubuhan kumpulan kerja, Fasa 2: pemilihan teknik semaian biak baka sukun warisan 1890 dan Fasa 3: Penjagaan dan dapatan data berterusan (penilaian hasil dapatan). Metodologi kerja adalah merujuk kepada kumpulan 1- menggunakan teknik semaian batang pada tanah campuran. Hasil dapatan bagi teknik semaian batang oleh kumpulan kerja 1 adalah merujuk kepada proses berterusan kepada Fasa ke-3 dalam perlaksanaan PBP berkaitan. kumpulan kerja 1 mengaplikasi tiga teknik semaian batang akan menjaga, mengukur dan menilai keberkesanan teknik yang dipilih. Dapatan data diukur menggunakan pemboleh ubah kadar tumbersaran dan tempoh matang setiap benih iaitu 25 hari. Hasil dapatan kumpulan 1 mendapati teknik semaian batang menggunakan tanah campuran menunjukan hasil yang sederhana bagi tumbesaran. Melalui sampel kajian 17 batang yang disemai, tiada batang yang berjaya bertunas dalam tempoh masa 25 hari. Kadar nisbah kejayaan adalah sebanyak 0%. Konsep PBP dan kajian ujilari lapangan sebenar ini diharap akan membantu bagi projek pembiakan dan penjagaan baka sukun warisan 1890 agar tidak pupus di Pulau Aman. Cadangan ujilari seterusnya yang disarankan ialah melibatkan teknik ke 4 dan ke 5 iaitu kaedah 'Tut' dan 'Cantuman Tunas' bagi melihat perkembangan pertumbuhan.
This scientific research paper on the development of three (3) breeding techniques of the original 1890 breadfruit breed is based on piloting the nursery stem breeding technique of breadfruit tree breeds through the implementation of the project-based learning concept (PjBL). The study is in the form of technique development and sampling through the application of the PjBL concept involving three (3) work groups of 2 members for each work group of the heritage breadfruit breeding project. Project-based learning will be used for three work groups through 3 phases of work including Phase 1: Establishment of work groups, Phase 2: selection of breeding techniques for the 1890 heritage breadfruit breed and Phase 3: Care and continuous data acquisition (evaluation of findings). The work methodology refers to group 1- using the stem nursery technique on mixed soil. The findings for the stem nursery technique by working group 1 refer to the ongoing process to the 3rd Phase in the implementation of related PjBL. working group 1 applied three techniques of the stem nursery will maintain, measure and evaluate the effectiveness of the chosen technique. The data obtained was measured using the variables of the growth rate and the maturity period of each seed which is 25 days. The results of group 1 found that the stem nursery technique using mixed soil showed moderate results for growth. Through a study sample of 17 stems that were sown, none of the stems successfully sprouted within a period of 25 days. The success rate is 0%. The concept of PjBL and this
actual field trial study is expected to help for the breeding and care project of the 1890 heritage breadfruit breed so that it does not become extinct on Pulau Aman. The next recommended test involves the 4th and 5th techniques which are the ' Marcotting @Tut' and 'Bud Grafting' methods to see the development of growth.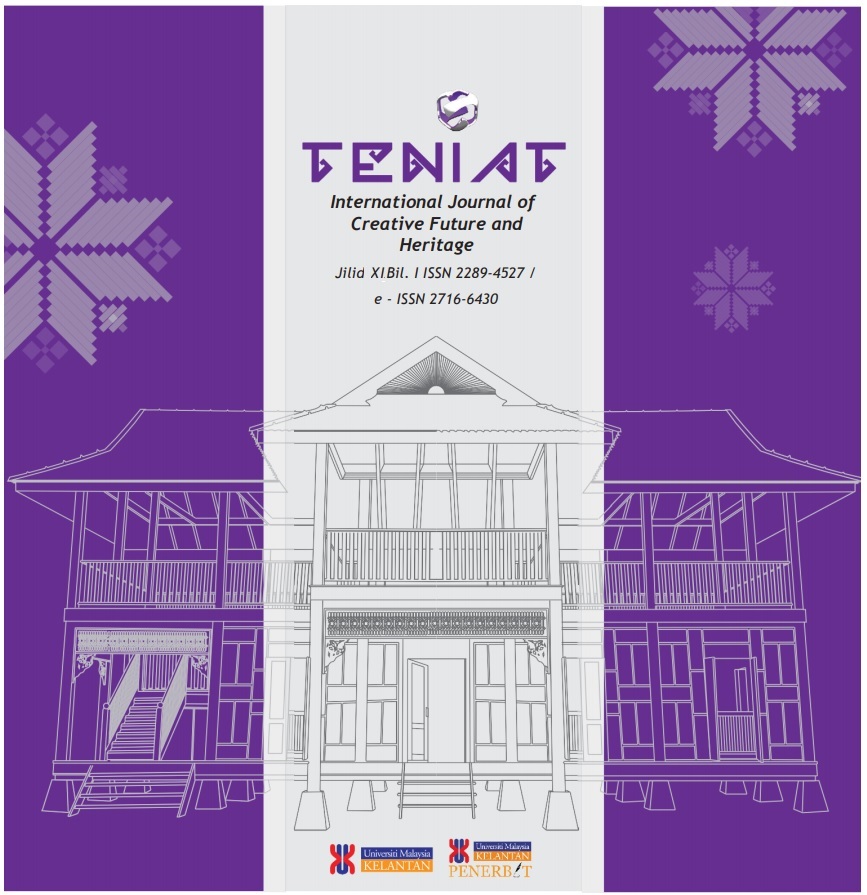 Downloads
How to Cite
BIN HAJI ABDUL RAHMAN, M. B., SITI NOR BINTI AWANG, ZURINA BINTI MOHD RADZI, & KHAIRUL AZHAR BINTI MAT DAUD. (2023). TEKNIK 1 SEMAIAN BATANG BAGI PEMBIAKAN BAKA SUKUN WARISAN 1890 PULAU AMAN: APLIKASI PEMBELAJARAN BERASASKAN PROJEK (PBP). International Journal of Creative Future and Heritage (TENIAT), 11(2), 64–74. Retrieved from http://journal.umk.edu.my/index.php/teniat/article/view/1010
License
Copyright (c) 2023 International Journal of Creative Future and Heritage (TENIAT)
This work is licensed under a Creative Commons Attribution-NonCommercial 4.0 International License.