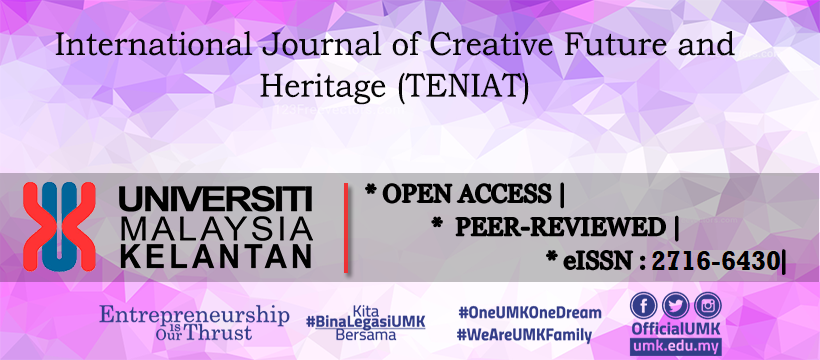 About the Journal
International Journal of Creative Future and Heritage (TENIAT) ISSN: 2289-4527 (Print); 2289-4527 (Online) is a peer reviewed open access journal published by Universiti Malaysia Kelantan. Since 2013, it has been providing a platform for the dissemination of original research with high quality ideas in the fields of Creative Technology and Heritage Studies, locally and internationally.

TENIAT aims to present the scientific research and relevant methods within a scope of Creative Technology and Heritage Studies as well as in other related cross-disciplinary research from Malaysia and overseas. It stimulates and promotes local and global academic exchange among scholars and practitioners.
TENIAT publishes two issues per year (bi-annual) – in March and September.
It has distinguished and renowned local as well as international fellow of academic scholars and practitioners in its Editorial Board It publishes articles written in either Malay or English languages.
Current Issue
Vol. 9 No. 1 (2021): International Journal of Creative Future and Heritage (TENIAT)
View All Issues