KAJIAN RINTIS PERSEPSI GURU SEKOLAH BERASRAMA MALAYSIA TERHADAP PERSEKITARAN PEMBELAJARAN FLIPPED YANG MENGGUNAKAN PENGUASAAN DAN PEMBELAJARAN BERASASKAN MASALAH
Keywords:
Persekitaran Pembelajaran Flipped, strategi pembelajaran, Sekolah Berasrama Penuh Malaysia, Flipped Learning Environment, learning strategies, Malaysian
Abstract
Apabila menggunakan persekitaran pembelajaran dengan platform elektronik, pengajar sering berjuang untuk menerapkan pelajaran dan konsep walaupun strategi pembelajaran flipped learning adalah penting untuk pendidikan berkualiti tinggi. Dalam kajian ini, guru Reka Bentuk dan Teknologi di Sekolah Berasrama Penuh Malaysia telah ditemu bual tentang cara strategi pengajaran mereka berbanding dengan persekitaran flipped learning. Kajian ini melihat penerimaan flipped learning, kaedah pengajaran yang digunakan oleh guru, dan pendapat mereka. Kaji selidik itu melibatkan 17 tenaga pengajar dari pelbagai wilayah di Malaysia. Dalam kajian ini, sembilan soalan dari "Soal Selidik Persekitaran Pembelajaran" telah digunakan. Peratusan digunakan untuk memeriksa data yang dikumpulkan. 80% guru di Sekolah Berasrama Penuh di Malaysia mempunyai sikap positif terhadap pembelajaran flipped learning dan memberikan penilaian yang tinggi terhadap pendekatan kreatif. Guru-guru di Sekolah Berasrama Penuh Malaysia perlu sedar akan pendekatan pembelajaran yang terbaik, seperti penguasaan dan penyelesaian masalah pembelajaran, memandangkan ciri-ciri kognitif, emosi, dan tingkah laku pelajar mereka. Akhirnya, kebanyakkan guru mengatakan bahawa menjalankan persekitaran seperti ini adalah penting untuk mendapatkan prestasi pembelajaran dan keseronokan.
Even though flipped learning tactics are crucial for top-notch education, teachers typically struggle to apply the lessons and concepts when using a learning environment with an electronic platform. In this study, instructors of Design and Skills at Malaysian boarding schools were asked to discuss how their methods of instruction related to the flipped classroom. The acceptance of flipped classrooms, instructors' teaching strategies, and their views were all examined in this study. 17 teachers from various parts of Malaysia took part in the study. Nine items from the "Learning Environment Questionnaire" were applied in this study. The data that was gathered was analysed using percentages. In general, 80% of instructors at Malaysian boarding schools have good attitudes about flipped learning and give the method high marks for the novel approach. Due to the cognitive, emotional, and behavioural characteristics of their pupils, Malaysian Boarding School teachers have to recognise the right learning methodologies, such as mastery and problem-solving learning. According to the guideline, doing this was essential to achieving both learning performance and enjoyment.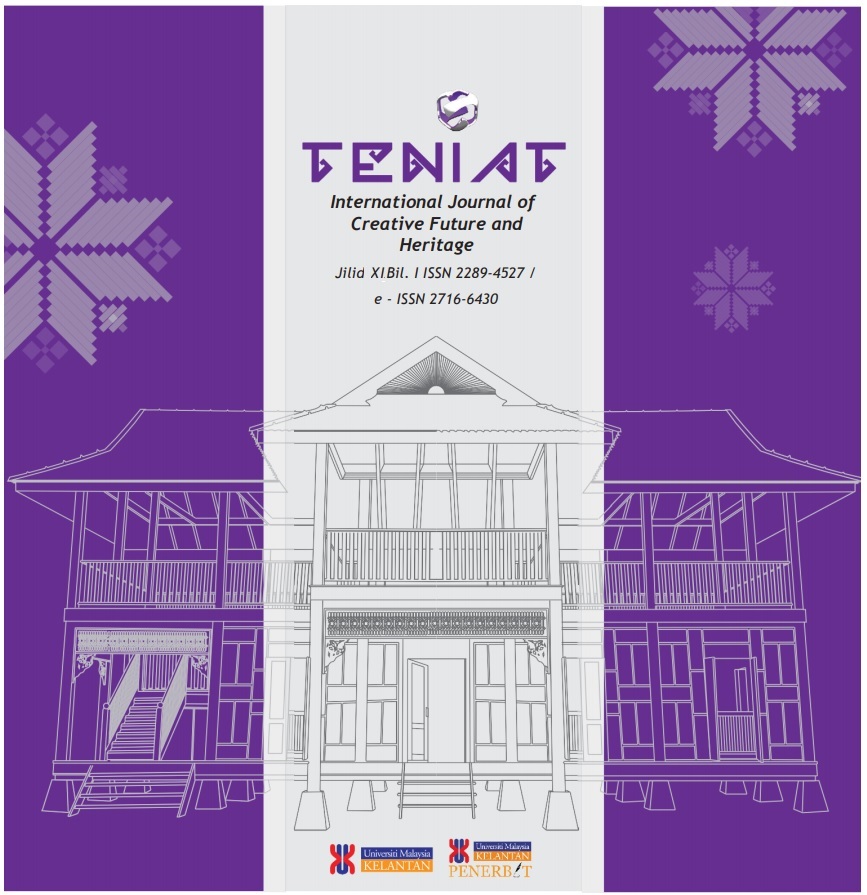 Downloads
How to Cite
NASIR, N. I., MARINA BINTI IBRAHIM MUKHTAR, ROHAYU RODDIN, YUSMARWATI YUSOF, & HASRUL HALIMOON. (2023). KAJIAN RINTIS PERSEPSI GURU SEKOLAH BERASRAMA MALAYSIA TERHADAP PERSEKITARAN PEMBELAJARAN FLIPPED YANG MENGGUNAKAN PENGUASAAN DAN PEMBELAJARAN BERASASKAN MASALAH. International Journal of Creative Future and Heritage (TENIAT), 11(2), 75–88. Retrieved from http://journal.umk.edu.my/index.php/teniat/article/view/1150
License
This work is licensed under a Creative Commons Attribution-NonCommercial 4.0 International License.