INDUSTRI PELANCONGAN MAH MERI KE ARAH KEUSAHAWANAN TEKNO DI MALAYSIA
Keywords:
Industri Pelancongan
Abstract
Industri pelancongan merupakan antara penyumbang utama kepada pertumbuhan ekonomi negara. Sumber manusia industri pelancongan memainkan peranan utama dalam pembangunan industri pelancongan. Kajian ini bertujuan untuk meneroka sumber manusia Industri Pelancongan Mah Meri ke arah teknousahawan di Malaysia. Kajian kualitatif digunakan sebagai pendekatan kepada kertas kerja ini, reka bentuk menggunakan kajian kes tunggal. Semasa pengkaji menggunakan pendekatan ini, pengkaji adalah instrumen yang merupakan responden yang aktif dalam proses penyelidikan ini. Temu bual diadakan bersama orang asli iaitu orang Mah Meri yang berkecimpung dalam industri pelancongan. Seterusnya, data juga dikumpul menggunakan pemerhatian dan dokumen daripada JAKOA, KPWKM, Kraftangan Malaysia dan lain-lain. Triangulasi digunakan. Data dianalisis menggunakan analisis tematik. Berdasarkan penyelidikan ini, hasil yang diperoleh boleh membantu wanita orang asli lain yang ingin diperkasakan ke arah teknousahawan dan membentuk komuniti berkemahiran sedia untuk bekerjasama. Tambahan pula, bagi sesebuah organisasi, kajian ini akan berkesan dalam pengurusan sumber dan mampu bekerjasama dengan organisasi lain untuk mencapai matlamat yang sama.
The tourism industry is one of the major contributors to the country's economic growth. Human resources of the tourism industry play a major role in the development of the tourism industry. This study aims to explore the human resources of the Mah Meri Tourism Industry towards technopreneurship in Malaysia. Qualitative research is used as an approach to this paper, the design is using a single case study. As we are using this approach, the researcher is instruments which are researcher as an active respondent in this research process. The interview is held with aboriginal people which is the Mah Meri people who are in the tourism industry. Furthermore, data were also collected using observation and documents from JAKOA, KPWKM, Kraftangan Malaysia etc. Triangulation is used. The data were analyzed using thematic analysis. This research, this is may help other aboriginal women who want to be empowered towards technopreneurship and form a skilled community ready to work together. Furthermore, for an organization, this study will be effective in resource management and able to work with other organizations to achieve the same goals.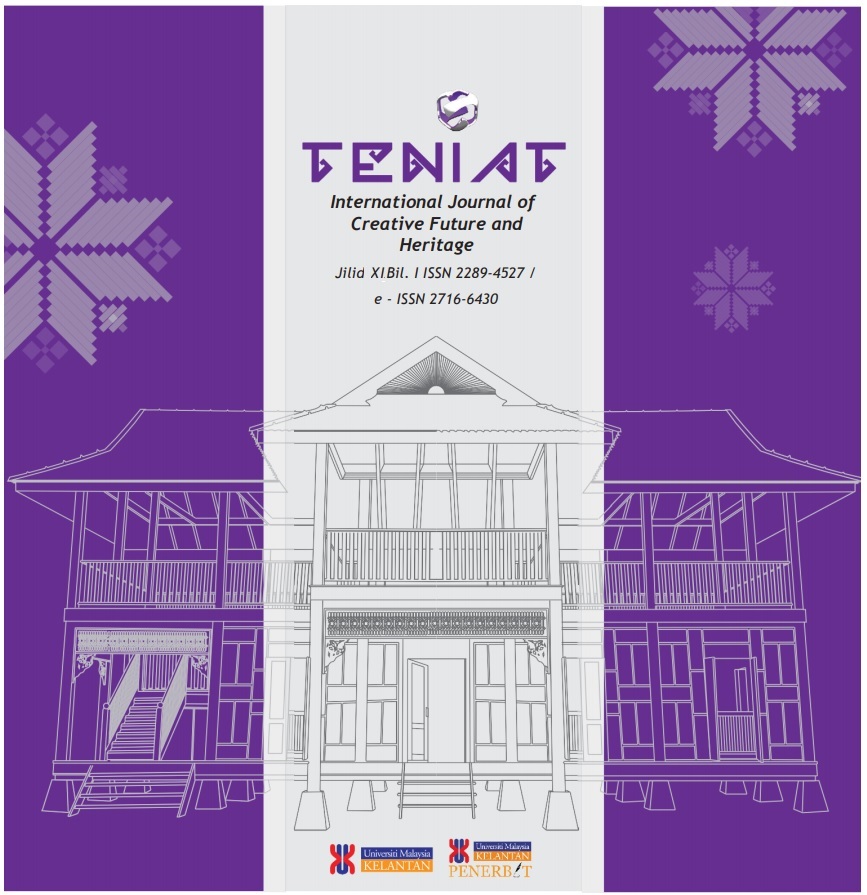 Downloads
How to Cite
JALIL SITI 'AFIAT, ROHAYU RODDIN, YUSOF, Y., IBRAHIM MUKHTAR MARINA, & BADROL HISHAM SHAMNOR SYAZA DANIA. (2023). INDUSTRI PELANCONGAN MAH MERI KE ARAH KEUSAHAWANAN TEKNO DI MALAYSIA. International Journal of Creative Future and Heritage (TENIAT), 11(2), 89–97. Retrieved from http://journal.umk.edu.my/index.php/teniat/article/view/1151
License
This work is licensed under a Creative Commons Attribution-NonCommercial 4.0 International License.