RITUAL DALAM CERITA RAKYAT DI MUKIM BEBAR, PEKAN, PAHANG, MALAYSIA
Keywords:
Cerita Rakyat, Ritual, Teori Fungsionalisme, Kebudayaan Melayu, Fungsionalisme, Attitude, Periodic Table, Perception Multimedia Courseware, Understanding
Abstract
Abstrak
Cerita rakyat berkembang dari generasi ke generasi dan disampaikan melalui lisan sehingga cerita rakyat dikenali sebagai sastera rakyat naratif nusantara. Cerita rakyat dianggap sebagai media hiburan pada zaman dahulu yang sarat dengan nilai-nilai pengajaran. Namun begitu, jika cerita rakyat difahami dan diteliti ia mempunyai hubung kait antara kehidupan masyarakat dengan kebudayaan masyarakatnya seperti kepercayaan, sistem kekeluargaan dan ekonomi. Namun, kini cerita rakyat semakin kurang mendapat tempat di hati generasi kerana kewujudan teknologi moden. Lantaran itu, kajian ini bertujuan mengenalpasti dan membincangkan ritual yang terkandung dalam cerita rakyat di Mukim Bebar Pekan, Pahang. Seterusnya, kajian ini juga menggunakan landasan teori fungsionalisme bagi analisis perbincangan. Metodologi kajian adalah secara kualitatif melalui kajian kerja lapangan iaitu kaedah temu bual berstruktur yang melibatkan tukang-tukang cerita di Mukim Bebar Pekan, Pahang. Hasil kajian mendapati ritual yang terdapat dalam cerita rakyat di Mukim Bebar Pekan, Pahang mempunyai hubung kait yang rapat dengan kebudayaan masyarakat Melayu dan masih diaplikasikan dalam kehidupan sesetengah masyarakat di kampung tersebut hingga ke hari ini.
Abstract
Folklore grows from generation to generation and is conveyed orally until it is known as folk narrative literature of the archipelago. Folklore was known as an entertainment medium in ancient times laden with teaching values. Folklore has a relation between the life of the community and the culture of the community, projected through beliefs, family system and economy. However, folktales are now less appreciated as among the younger generation, mostly due to the modern technology advancement. This study aims at identifying and discussing the rituals contained in the folklore collected at Mukim Bebar Pekan, Pahang. This study also uses the theoretical foundation of functionalism in the discussions and analyses. The research methods employed are qualitative and a fieldwork involving a structured interview method of the storytellers in Mukim Bebar Pekan, Pahang. It can be concluded that there is a close relation between the community and its culture where some rituals are still being practiced in the lives of some people in the village, even up to now.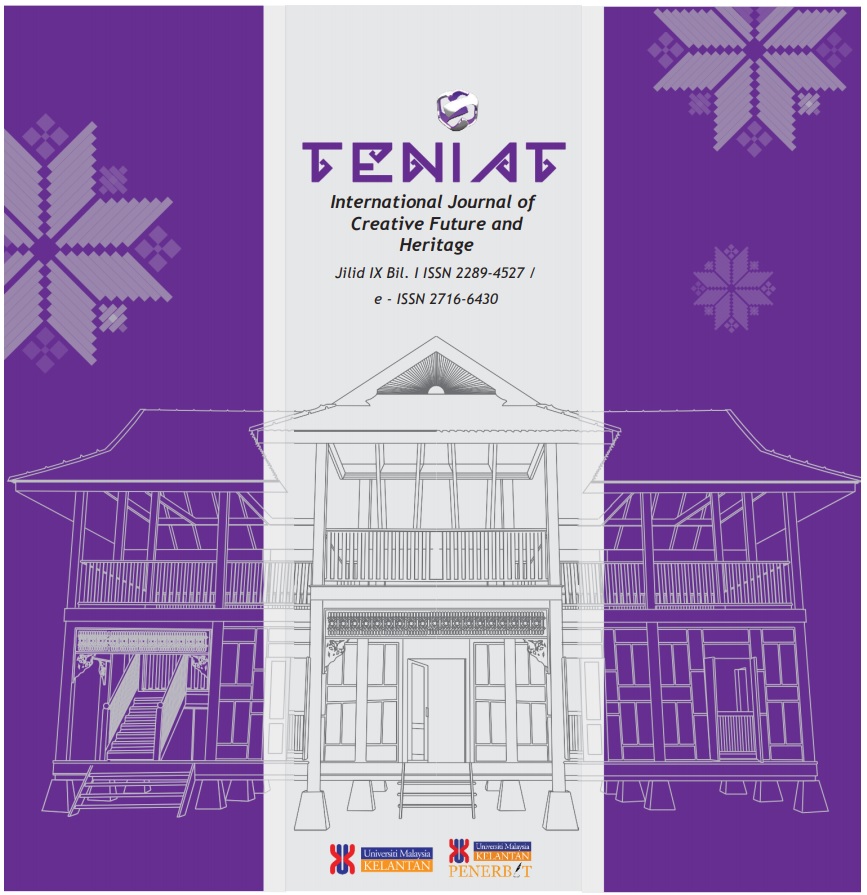 Downloads
How to Cite
MOHD HANIPAH, N., DAENG JAMAL, D. H., & ABDILLAH, N. (2021). RITUAL DALAM CERITA RAKYAT DI MUKIM BEBAR, PEKAN, PAHANG, MALAYSIA. International Journal of Creative Future and Heritage (TENIAT), 9(1), 18 -29. https://doi.org/10.47252/teniat.v9i1.396
License
Copyright (c) 2021 Universiti Malaysia Kelantan
This work is licensed under a Creative Commons Attribution-NonCommercial 4.0 International License.