PERSPEKTIF PERSONALITI DAN PSIKOLOGI TERHADAP DENIM JEANS LELAKI DALAM MUZIK DAN FESYEN DI ERA REVOLUSI PERINDUSTRIAN KE-4
Keywords:
Data Kuantitatif, Gaya Jeans, Identiti Diri, Muzik Psikologi, Sifat Psikologi, Music, Psychological, Psychological Trait, Quantitative Data, Self-Identity
Abstract
Abstrak
Sifat psikologi menerangkan cara di mana setiap orang berbeza antara satu sama lain. Ini merupakan konsep Maslow dan keperluan psikologi. Sehubungan itu, ramai artis Malaysia menggemari seluar jeans semasa membuat tayangan pentas, penggambaran drama atau filem dan kehidupan seharian. Sebagai contoh, artis dan muzik yang dipersembahkan memainkan peranan besar ke arah fesyen. 40 responden lelaki dipilih secara rawak berumur antara 23 hingga 30 tahun berhampiran Kuala Lumpur. Objektifnya adalah bagi memahami gaya pemotongan yang sesuai dengan dapat membezakan pelbagai gaya yang sedia ada dan melambangkan keperibadian lelaki terhadap penggayaan seluar jeans. Kajian ini menekankan kepada pelbagai penggayaan seluar jeans dalam mencerminkan keperibadian lelaki. Data dianalisis menggunakan kaedah kualitatif. Kajian ini diharap dapat memberi kefahaman tentang keperibadian terhadap refleksi identiti diri lelaki di Kuala Lumpur menggunakan kaedah Pakej Statistik Sains Sosial (SPSS).
Abstract
Psychological trait describes ways in which people are different from each other. This follows Maslow concepts and psychological needs. In relation, many Malaysian artists favour jeans wearing during stage show, drama shooting or film and daily life. For instance, both the artist and the music they sing can play a huge role in which direction the fashion industry moves. 40 male respondents are randomly selected, aged from 23 to 30 years old near Kuala Lumpur. The objectives are to understand the cutting styles that fits the person by being able to differentiate various styles available reflecting men's personality towards jeans styles. By undertaking a quantitative method, the study was able to provide an insight into the personality of self-identity reflection towards men in Kuala Lumpur using Statistical Package for the Social Sciences (SPSS). The study emphasizes on whether men's personality was reflected by different styles of denim jeans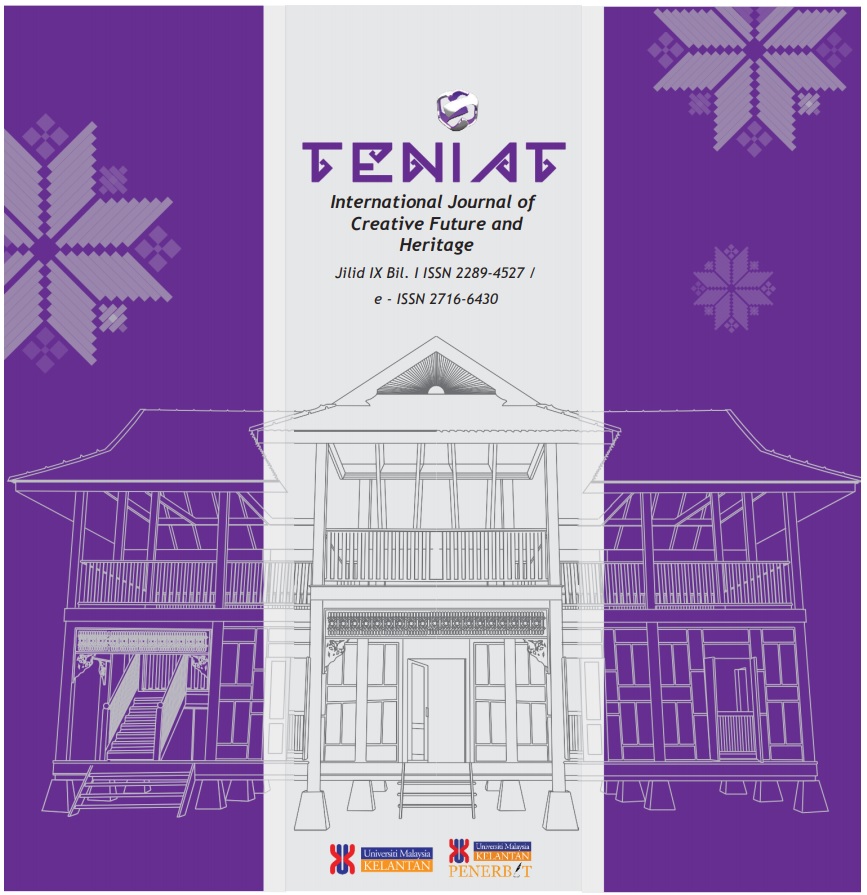 Downloads
How to Cite
MUSTAPHA, A., & MOHD ROSLAN, N. I. (2021). PERSPEKTIF PERSONALITI DAN PSIKOLOGI TERHADAP DENIM JEANS LELAKI DALAM MUZIK DAN FESYEN DI ERA REVOLUSI PERINDUSTRIAN KE-4. International Journal of Creative Future and Heritage (TENIAT), 9(1), 30 - 51. https://doi.org/10.47252/teniat.v9i1.397
License
Copyright (c) 2021 Universiti Malaysia Kelantan
This work is licensed under a Creative Commons Attribution-NonCommercial 4.0 International License.