ANALISIS INTRINSIK SIMBOL BUDAYA MELAYU DALAM KARYA CATAN MODEN TERPILIH JALAINI ABU HASSAN DAN FATIMAH CHIK
Keywords:
Analisis Intrinsik, Pohon Beringin, Simbol Budaya Melayu
Abstract
Abstrak
Kajian ini bertujuan menganalisis skop perkembangan karya-karya seni oleh Jalaini Abu Hassan dan Fatimah Chik melalui pendekatan Edmund Feldman pada tahun 1967 yang menerangkan empat langkah aras kritikal analisis seperti yang berikut iaitu deksripsi, analisis, interpretasi dan pertimbangan. Kerangka kerja teoritikal yang dianalisis menggunakan teori Edmund Feldman yang diasaskan pada tahun 1967 dengan menekankan metodologi analisis kaedah primari iaitu pemerhatian dua karya seni catan iaitu Pohon beringin yang dihasilkan oleh Fatimah Chik pada tahun 2002 dan karya Tales of the heroes yang dihasilkan oleh Jalaini Abu Hassan pada tahun 2010. Nilai kemelayuan juga terdapat pada makna tersurat terutamanya pada catan Pohon beringin Fatimah seperti simbol segi tiga, wayang kulit Kelantan, filem Melayu Bawang Putih Bawang Merah telah diinspirasikan daripada falsafah catan Pohon Beringin itu dan juga tidak dapat dipisahkan dengan simbol warisan Melayu yang telah divisualkan dalam kalangan masyarakat Melayu sejak zaman nenek moyang kita lagi dan sehingga ke zaman era kemodenan abad ke 21 ini. Dapatan kajian dalam catan Jalaini Abu Hassan menunjukkan terdapat seorang lelaki dengan baju melayu menjelaskan tentang 5 prinsip rukun Islam dan rukun negara dan juga makna tersurat tentang perubatan tradisional Islam yang telah diaplikasikan dalam kehidupan Jailani dan ayahnya.
Abstract
This paper aims to analyse the development of Malaysian artworks of Jalaini Abu Hassan and Fatimah Chik paintings through the Edmund Feldman 1967 approach which is a theory that describes the description, the analysis, the interpretation and the judgement. The theoretical framework of this approach involved four steps of critical analysis processes. Hence, the methodology emphasized the qualitative methodology by observing two (2) paintings which were Tales of the Heroes from year 2010 and Pohon Beringin from year 2002 artworks by the Malay Malaysian artists, Jalaini Abu Hassan and Fatimah Chik, respectively. The findings suggested that the Malaysian painters expressed the value of the Malay identity and philosophy in their artworks. For example, Jalaini Abu Hassan's Tales of the Heroes that potrayed a guy in Malay's traditional costume represented the 5 Pillars of Islam, the National Principles (Rukun Negara) and the literal meaning of the traditional Islamic medicine which were applied in Jalaini's and his father's lives. Additionally, the Malay value can also be found literally in Pohon Beringin batik painting by Fatimah Chik such as the triangle symbol. To date, banyan tree has a significant meaning in the Malay heritage which have been visualised in the Malay community since the ancestral era. Other than the canvas painting of Fatimah Chik's Pohon Beringin, the banyan tree has been adapted in many Malay artworks such as Kelantanese Wayang Kulit and Malay film of Bawang Putih Bawang Merah.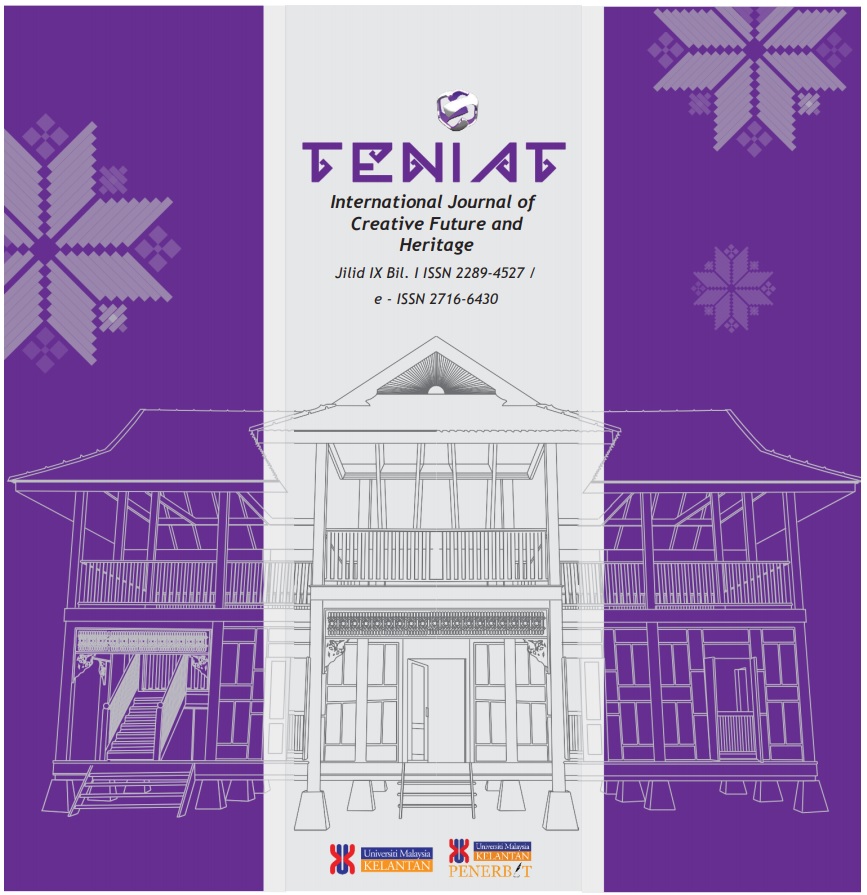 Downloads
How to Cite
ABDULLAH, A. H., IBRAHIM, Y., & RAJA HALID, R. I. (2021). ANALISIS INTRINSIK SIMBOL BUDAYA MELAYU DALAM KARYA CATAN MODEN TERPILIH JALAINI ABU HASSAN DAN FATIMAH CHIK. International Journal of Creative Future and Heritage (TENIAT), 9(1), 52-68. https://doi.org/10.47252/teniat.v9i1.398
License
Copyright (c) 2021 Universiti Malaysia Kelantan
This work is licensed under a Creative Commons Attribution-NonCommercial 4.0 International License.