REALITI TERIMBUH KUBU PEPERANGAN BRITISH DI KELANTAN SEBAGAI MEDIUM PEMBELAJARAN DALAM KONSERVASI WARISAN DI KELANTAN
Keywords:
Realiti Terimbuh, Kubu Kebal, Kelantan, Konservasi, Pembelajaran, Augmented Reality, Pillboxes, Conservation, Education
Abstract
Abstrak
Realiti terimbuh telah digunakan dalam 4IR untuk pelbagai bidang, termasuk pendidikan, pelancongan, perniagaan, perkhidmatan dan komunikasi. Dalam pendidikan, realiti terimbuh digunakan sebagai medium pemuliharaan warisan dengan mencipta semula monumen fizikal dalam persekitaran maya. Realiti terimbuh digunakan untuk memelihara kubu peperangan British. Penyelidikan ini memfokuskan kepada dua lokasi di Negeri Kelantan iaitu di Kampung Ger dengan koordinat 6 ° 00´00.4 ° N 102 ° 22´55.2 ° E dan Kampung Tok Burung terletak pada koordinat 6 ° 04´33.7 ° N 102 ° 23´. 45.5 ° E. Penggunaan realiti terimbuh dalam pengajaran dan pembelajaran dapat menambah baik kaedah penyampaian pensyarah untuk menarik minat pelajar. Penggunaan realiti terimbuh dalam pembelajaran konservasi warisan dapat meningkatkan pemahaman artifak dan monumen dengan lebih terperinci. Penggunaan realiti terimbuh memudahkan pembelajaran tentang pemuliharaan dan menambah baik kaedah pengajaran yang melibatkan kubu peperangan British. Pengalaman maya dari segi bahan, pembinaan, pemasangan telah membantu pelajar dalam menentukan elemen, dimensi, struktur dan ukuran yang betul bagi memahami pengetahuan asas pemuliharaan. Pelajar telah diberi tugasan berkumpulan untuk mencipta model 3D struktur kubu peperangan British. Kubu peperangan British yang dihasilkan melalui maya menggunakan penanda dalam bentuk imej kubu tersebut. Untuk mengakses maklumat mengenai kubu, pengguna hanya perlu mengimbas gambar tersebut. Rentetan daripada Covid-19, pelajar tidak dibenarkan untuk menjalankan kajian di luar kawasan. Berdasarkan analisis yang diperoleh, para pelajar bersetuju akan penggunaan realiti terimbuh dalam pembelajaran dan menjadikan pembelajaran lebih berkesan pada masa akan datang.
Abstract

Augmented Reality (AR) is used within 4IR and applied to various fields, including education, tourism, business, services, and communications. In education, AR is applied as a pedagogical medium for heritage conservation by recreating physical monuments in a virtual environment. AR is used to preserve British pillboxes. This research focuses on two locations in the State of Kelantan, namely
Kampung Ger with coordinates 6 ° 00´00.4 ° N 102 ° 22´55.2 ° E and Kampung Tok Burung located at coordinates 6 ° 04´33.7 ° N 102 ° 23´45.5 ° E. Augmented Reality (AR) in teaching and learning improves delivering methods of lecturers to gain students interest in learning. AR in conservation courses may increase understanding of the artefacts in more detail and help view the exact form of the
objects and monuments. The use of AR as a method was explored to facilitate learning about conservation and improve teaching methods to engage students in British pillboxes. The virtual experiences of the material, construction, fitting, and many more have assisted students in deciding the right choice of element, dimension, structure, and measurement to understand the fundamental
conservation knowledge. Students were given group tasks to create a 3D model of the simple fitting appliances of British Pillbox structures. The pillboxes are produced virtual using a marker in the form of an image of the pillbox. Users only needed to scan the picture due to the Covid-19 pandemic to access information about the British pillboxes. Students are prohibited from visiting historical sites. This research suggests that using AR can allow conservation courses to proceed. The study also found that students preferred to use AR during their learning. In the future, this approach will be effective in conservation education.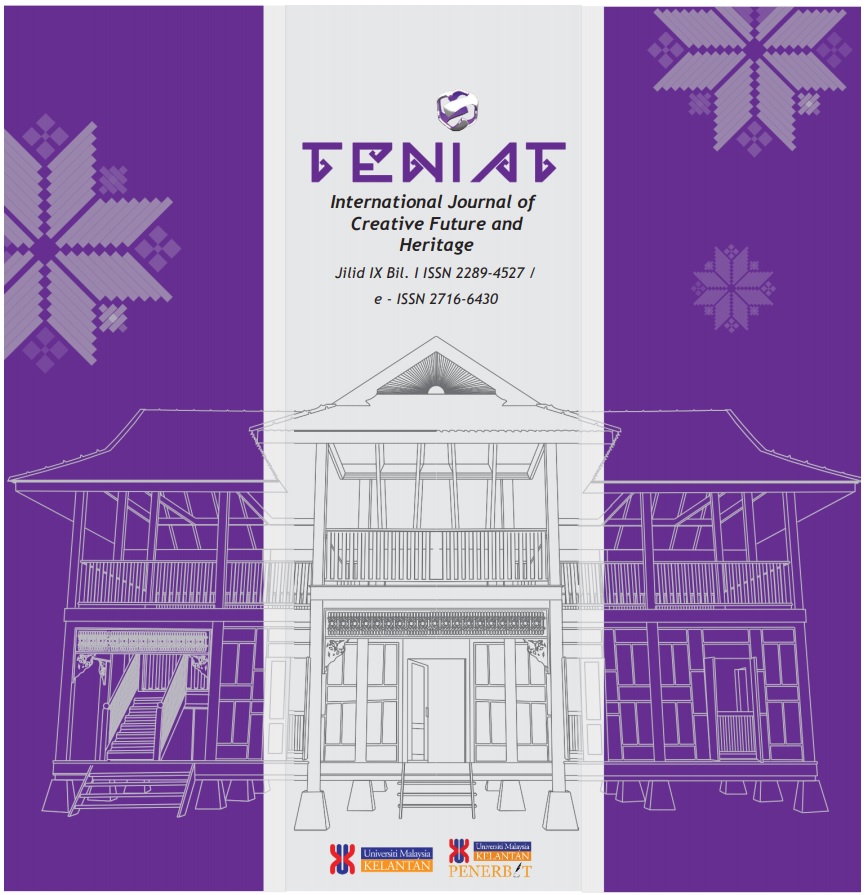 Downloads
How to Cite
HASHIM, N. A. ., TENGKU ANUAR, T. F. ., MUHAMMAD, S. A. ., NARAYANEN, S. ., SAIDIN, M. ., & SHUHAIMI, N. F. . (2022). REALITI TERIMBUH KUBU PEPERANGAN BRITISH DI KELANTAN SEBAGAI MEDIUM PEMBELAJARAN DALAM KONSERVASI WARISAN DI KELANTAN. International Journal of Creative Future and Heritage (TENIAT), 10(2), 13–23. https://doi.org/10.47252/teniat.v10i2.951
License
This work is licensed under a Creative Commons Attribution-NonCommercial 4.0 International License.