PUTERI SAADONG DAN INGATAN BUDAYA MASYARAKAT KELANTAN DI MALAYSIA: SATU PEMERHATIAN DI TEMPAT BERSEJARAH
Keywords:
Cultural, Memory, History of Kelantan, Malaysia, Puteri Saadong, Budaya, Sejarah Kelantan
Abstract
Abstrak
Dalam sejarah Kelantan, Puteri Saadong memainkan peranan penting sehingga kini. Tokoh lagenda ini mempunyai hubungan rapat dengan bukit Bukit Marak di Kelantan. Bukit ini sering dikunjungi oleh penduduk tempatan dari dalam dan luar Kelantan. Pasukan penyelidik telah meneroka tempat-tempat bersejarah ini untuk menghuraikan maknanya kepada masyarakat. Puteri Saadong dan kisahnya masih penting dalam kehidupan seharian masyarakat Kelantan. Pasukan penyelidik telah menjelaskan dan menganalisis sejauh mana kisah Puteri Saadong mempengaruhi ingatan budaya masyarakat Kelantan. Penyelidik telah mengikuti Jan Assmann dan Maurice Halbwachs untuk latar belakang teori yang digunakan dalam kajian ini. Penyelidikan ini bersifat eksploratif, dan banyak kesan geologi yang dijumpai mengingatkan masyarakat tentang kisah Puteri Saadong. Lebih-lebih lagi, terdapat pasangan yang bersifat kontroversi dalam cerita itu sendiri yang mengingatkan orang ramai tentang cara hidup yang benar.
Abstract
In the history of Kelantan, Puteri Saadong plays an essential role to this day. This legendary figure has a close relationship with Bukit Marak hill in Kelantan. This hill is often visited by locals from in and outside Kelantan. Therefore, the research team has explored these historical places to elaborate on their meaning to the community. Puteri Saadong and her story are still important in the different daily lives of the Kelantan community. The research team has described this fact and analyzed the extent to which it influenced the cultural memory of the Kelantanese community. Furthermore, the researchers have followed Jan Assmann and Maurice Halbwachs as the theoretical background used in this study. The research was explorative by nature, and it was detected that many geological formations remind the people of the story of Puteri Saadong. Moreover, binary pairs of opposition within the story remind the people of an ideal way of life.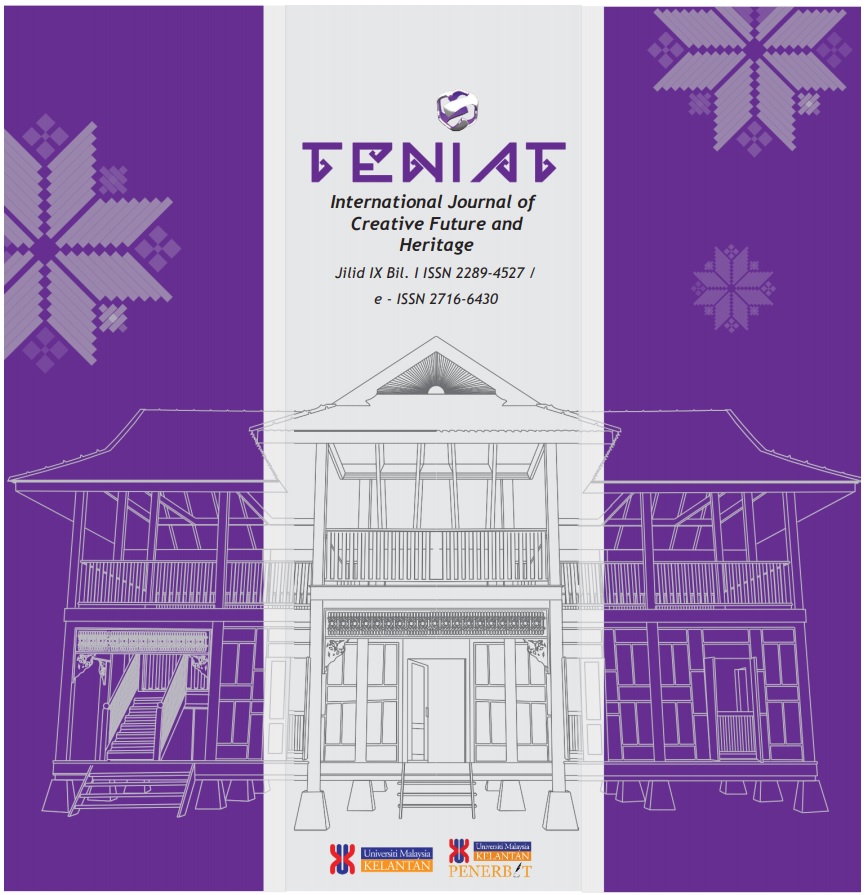 Downloads
How to Cite
STARK, A. ., KURNIAWAN, Y. ., & WAN SHAHARUDDIN, W. Y. (2022). PUTERI SAADONG DAN INGATAN BUDAYA MASYARAKAT KELANTAN DI MALAYSIA: SATU PEMERHATIAN DI TEMPAT BERSEJARAH. International Journal of Creative Future and Heritage (TENIAT), 10(2), 24–40. Retrieved from http://journal.umk.edu.my/index.php/teniat/article/view/952
License
This work is licensed under a Creative Commons Attribution-NonCommercial 4.0 International License.