FUNGSI BUNGA-BUNGAAN DALAM TEKS PANTUN MELAYU 'BINGKISAN PERMATA'
Keywords:
bunga, fungsi, pantun, flower, function, poem
Abstract
Abstrak
Alam mempunyai unsur pengaruh yang kuat dalam kehidupan tradisi masyarakat Melayu sejak zaman berzaman. Keutuhan hubungan yang terjalin di antara masyarakat Melayu dengan alam sekitar telah membentuk satu pengaruh unik khususnya penggunaan unsur alam sebagai motif dalam aspek kesenian dan kebudayaan Melayu. Keupayaan mengolah unsur alam khususnya flora sebagai pembayang dalam menghasilkan pantun membuktikan penggunaan daya kreativiti yang tinggi dalam kalangan masyarakat Melayu. Makalah ini dihasilkan bertujuan untuk membincangkan tentang fungsi tumbuhan terutamanya jenis bunga-bungaan yang terdapat di alam Melayu dan mempunyai fungsi tertentu. Kajian ini juga meneliti kepelbagaian unsur flora yang digunakan sebagai pembayang dalam menghasilkan pantun. Selain itu, kajian ini juga meneliti pemilihan motif alam flora terutamanya aspek bunga-bungaan dalam pantun Melayu. Jenis-jenis bunga yang terdapat dalam pantun Melayu kebiasaannya dijadikan sebagai pembayang dan juga maksud pantun. Bagi tujuan menjalankan kajian tersebut, analisis dilakukan melalui koleksi pantun yang terdapat dalam teks Pantun Melayu Bingkisan Permata (PMBP). Hasil kajian mendapati penjenisan bunga yang terdapat dalam pantun Melayu mempunyai kepelbagaian fungsi antaranya sebagai bahan makanan, alat kosmetik, alat terapi, simbol dalam upacara atau ritual, dan berfungsi sebagai bahan dalam perubatan tradisional masyarakat Melayu.
Abstract
Nature has had a vital element of influence in the traditional life of the Malay community since time immemorial. The integrity of the relationship between the Malay community and the environment has formed a unique influence, especially the use of natural elements as motives in aspects of Malay art and culture. The ability to process the elements of nature, especially flora, as a hint in producing poems proves the use of high creativity among the Malay community. This paper aims to study the function of plants, especially the types of flowers found in the Malay world and have certain functions. This study also examines the diversity of flora elements used as hints in producing poems. In addition, this study also examines the selection of motifs of flora, especially the aspect of flowers in Malay poetry. The types of flowers found in Malay poems are usually used as a hint and also the poem's meaning. To conduct the study, the analysis was done through a collection of poems found in the text of "Pantun Melayu Bingkisan Permata" (PMBM). The results of the study found that the types of flowers found in Malay poems have a variety of functions such as food, cosmetics, therapy tools, symbols in ceremonies or rituals, and serve as material in the traditional medicine of the Malay community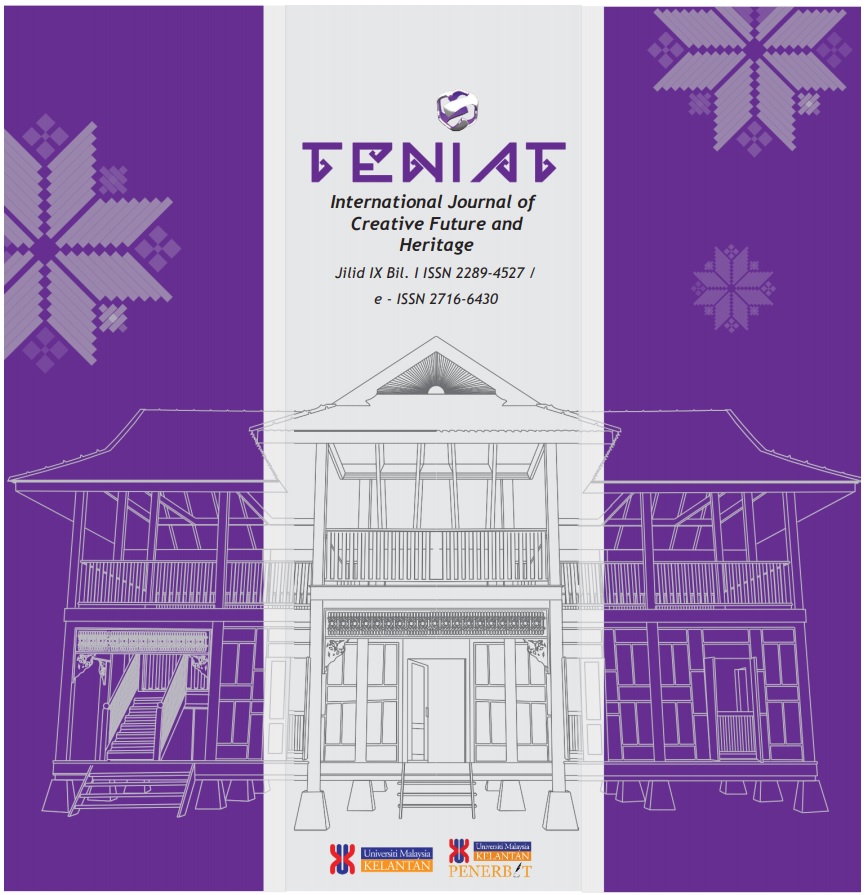 Downloads
How to Cite
MOHD ZAWAWI, A. ., MAT HASSAN, N. ., & AB JABAR, N. . (2022). FUNGSI BUNGA-BUNGAAN DALAM TEKS PANTUN MELAYU 'BINGKISAN PERMATA' . International Journal of Creative Future and Heritage (TENIAT), 10(2), 41–56. Retrieved from http://journal.umk.edu.my/index.php/teniat/article/view/953
License
This work is licensed under a Creative Commons Attribution-NonCommercial 4.0 International License.