BUDAYA PERANAKAN DALAM KOMIK SENI PERTAHAN DIRI DALAM KARYA HASIL KERJA TIGA ARTIS TREND SETTER INDONESIA DALAM KOMIK SENI PERTAHAN DIRI
Keywords:
peranakan, Ganesh. T.H, Hans Jaladara, Otto Suastika, Indonesian Martial Art's comic
Abstract
Abstrak
Otto Suastika, Ganesh, T.H., dan Hans Jaladara, yang merupakan keturunan Cina atau juga dikenali sebagai peranakan, merupakan tiga pencipta buku komik paling terkenal dalam genre ini. Mereka menetapkan "trend" pada tahun 1950-an hingga 1970-an. Matlamat kajian adalah untuk menentukan bagaimana ketiga-tiga penentu arah "trend" ini telah mempengaruhi pencipta buku komik yang lain. Temu bual mendalam dengan Hans Jaladara, Dwi Mastuti, Hasmi, Roby, dan Agus T Dermawan merupakan metodologi kajian. Walaupun dari budaya yang sama, gaya lakaran mereka nampak sangat berbeza. Kerana mereka berasal dari wilayah yang berbeza di pulau Jawa, persekitaran budaya mereka sebelum ini memberi kesan yang berbeza kepada mereka juga. Contohnya, Otto Suastika, anak jati Jawa Tengah, mencipta figura dalam gaya naturalistik yang sama seperti Foster. Otto Suastika, orang Jawa Tengah, melukis tokoh dalam gaya realis Foster, misalnya (Foster ialah seorang ilustrator terkenal yang telah mengumpulkan banyak karya), tetapi dalam komik seni bela diri Cina, dia mengembangkan gayanya sendiri dengan mengambil Potehi. Motif dan ciri-ciri boneka menjadi pertimbangan, terutamanya dalam persembahan pakaian seragam Raja, bendera, dan kubu. Hanya ada dua artis lain yang menggunakan teknik ini. Walaupun mereka tiba pada masa yang hampir sama dan dipengaruhi oleh artis buku komik AS atau artis peranakan Indonesia yang setanding secara kasar, mereka tidak dapat dielakkan mempunyai emosi Cina. Ketiga-tiga perintis itu memberi inspirasi kepada ramai rakan seangkatan mereka, khususnya di Sumatera Utara dan Pulau Jawa, untuk mengembangkan seni mempertahankan diri berdasarkan cerita rakyat, Pahlawan Indonesia (Si Pitung), dan legenda tempatan.
Abstract
These three most popular comic artists in this genre are: Otto Suastika, Ganesh, T.H. and Hans Jaladara which are of Chinese descent or also called peranakan, and they become the trend setter during 1950 to 1970s The objective of the research is to find the influence of these three trend setter to other comic artist. The research method is depth interview to Hans Jaladara, Dwi Mastuti, , Hasmi, Roby and Agus T Dermawan.. They came from the same culture but their drawing style seems very different. It's because they came from different places around Java island where they lived before, so their cultural surroundings that influence them was different either. For example, Otto Suastika, that born in Central Java, drew figures in Foster's same realist style (Foster is a famous illustration artist who made a lot of self ) , but in Chinese martial art comics he created his own style by taking the motif and properties of Potehi Puppets into account, especially in his drawing of the King's uniform, flags, and fort. This style cannot find on another two artists. Even they came in almost similar era, influenced by almost similar Indonesian peranakan artists or US comic artists, but of course, they cannot avoid their Chinese feelings. The three trendsetter triggered many of their contemporaries especially in North Sumatra and Java Island, to create martial arts from folk stories, Indonesian Heroes (Si Pitung) and Local legend stories.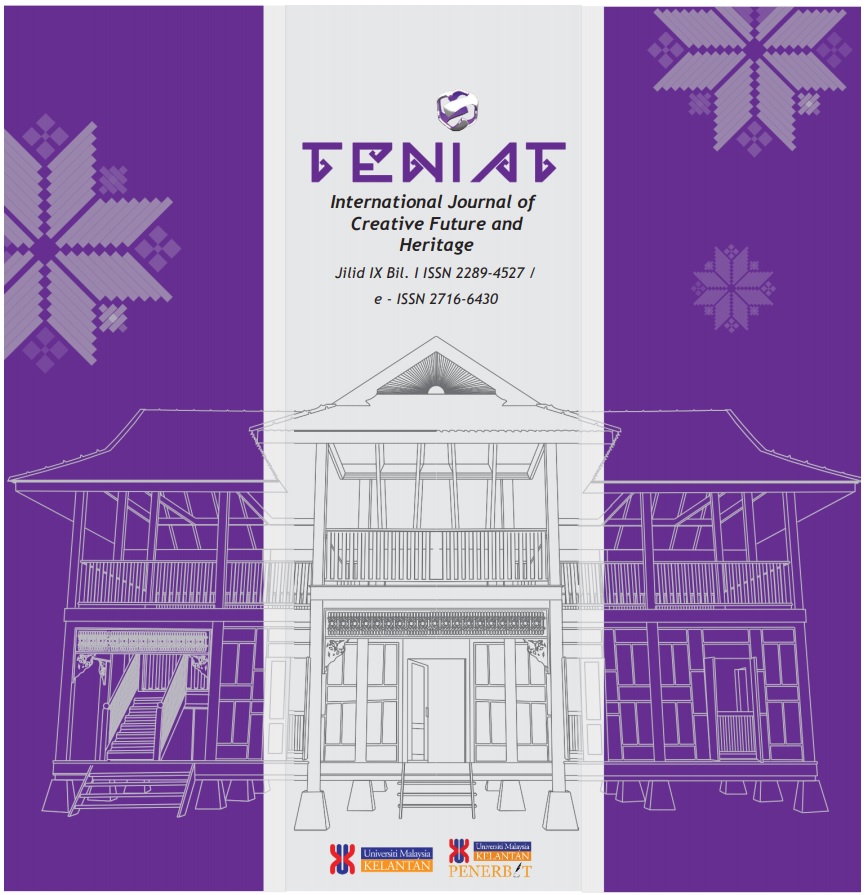 Downloads
How to Cite
ZAHAR, I. ., MUSTAQIM, K. ., TENGKU ANUAR, T. F. ., & IBRAHIM, Y. . (2022). BUDAYA PERANAKAN DALAM KOMIK SENI PERTAHAN DIRI DALAM KARYA HASIL KERJA TIGA ARTIS TREND SETTER INDONESIA DALAM KOMIK SENI PERTAHAN DIRI. International Journal of Creative Future and Heritage (TENIAT), 10(2), 75–87. https://doi.org/10.47252/teniat.v10i2.957
License
This work is licensed under a Creative Commons Attribution-NonCommercial 4.0 International License.