Why Managers Lose Balance; Can Technology Influence Balance
Keywords:
Work life balance, information technology, high performance, managers
Abstract
As the work environment becomes more complex and diverse, managers are compelled to implement favorable practices that can deliver quality output to achieve competitive advantage with minimum resources. Employees are on employers? toes for justice; while employers are determined to curtail the cost and effect of the same. It is important for managers to adapt ideas and practices from time to time since organizations and environments are continuously improving. Since work life balance poses a heavy cost to the organization in terms of time and cost, even though the employment laws now permits family friendly programs, workplace implementation still remains a big challenge. Investing in what may work out well for the organization is also unavoidable. It has come to a time for management to embrace work family programs to permit managers to take care of their family issues. With growing technology and multiple generations co-existing with different behavioral norms, a shift from traditional approach to Work?Life balance (WLB) integration has become a big issue in managing human resource. Accordingly, we explore how advancement in information technology is shifting WLB-high performance achievement relationship. Data were collected from 265 managers. Hypotheses were tested using multiple and hierarchical regression analyses. The result did not support that WLB has a direct positive impact on performance. However, we found that WLB has an indirect influence on high performance achievement through the advancement in information technology. The study demonstrated that advancement in information technology influences how managers manage both work and life domains. This result has significant implications for managers and the growing workforce.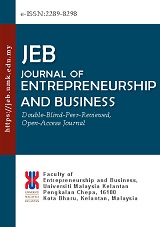 How to Cite
Ugheoke, S. O. ., & Kamil, M. T. . (2021). Why Managers Lose Balance; Can Technology Influence Balance. Journal of Entrepreneurship and Business, 6(1), 29–38. https://doi.org/10.17687/jeb.v6i1.423