Effects of Authentic Leadership on Work Engagement and Employee Turnover Intention in Malaysia Call Centres
Keywords:
Turnover intention, Authentic leadership, Work engagement, Call centre, Malaysia
Abstract
One of the biggest challenges for the call centre industry is the high turnover rate. Past studies revealed that affective commitment, organisational commitment, psychological capital, job satisfaction, work environment and problematic customer behaviours were some of the contributing factors of turnover. However, authentic leadership and the role of work engagement as mediators lacked investigation for the service industry in Malaysia. Therefore, this study aimed to investigate the influence of four dimensions in authentic leadership on employees' turnover intention in Malaysia call centres with work engagement as the mediating role. A total of 389 online surveys were distributed to employees working in call centres in Klang Valley and Cyberjaya. This study obtained 240 valid samples with a return rate of 60%. The results indicated that self-awareness and balanced processing of information had a significant relationship with work engagement. Work engagement was significantly related to turnover intention. Work engagement contributed as a mediator to some variables towards employees' turnover intention. Hence, leaders are encouraged to manage tasks and relational roles. Different leadership styles have their strengths and limitations which could impact the employees' engagement to the company.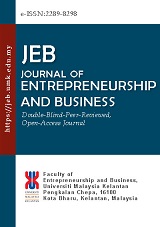 How to Cite
Ahmad, S. N. B. ., & Chin , P. K. (2021). Effects of Authentic Leadership on Work Engagement and Employee Turnover Intention in Malaysia Call Centres. Journal of Entrepreneurship and Business, 6(2), 31–48. https://doi.org/10.17687/jeb.v6i2.430