Analysing Generical Moves in Pedagogical Sales Reply Emails
Keywords:
moves analysis, promotional genre, sales reply emails, written communication, corpus
Abstract
This study aimed to investigate the generic features in the business emails written by the undergraduates of Universiti Malaysia Kelantan (UMK). Besides that, this study intended to propose a standard generic structure in writing a business email. The emails were gathered from the respondents' assignment that comprised of two email-based questions; however, this study analysed the generic structure of sales reply emails. The emails were compared with Bhatia's promotional sales letter moves. The methodology of this study was computer-assisted corpus analysis (CACA) by Manvender (2011). The data were analysed using a genre-based technique by Bhatia (1993). The particular moves and steps in both types of texts were recognised and categorised individually. The rhetorical structure of sales reply emails consists of three major moves: introducing product, product details, offering incentives. Although the respondents showed similarities in their moves, there were some differences such as the number and content of the moves as well as the contextual patterns.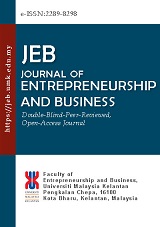 How to Cite
Ismail Shauki, N. B. ., & Sarjit Singh, M. K. . (2021). Analysing Generical Moves in Pedagogical Sales Reply Emails. Journal of Entrepreneurship and Business, 6(2), 48–59. https://doi.org/10.17687/jeb.v6i2.431