Measuring Students' Awareness of Food Related Factors: The Role of Attitude, Price, Hygiene, and Food Safety
Keywords:
attitude, awareness, price, hygine, food safety
Abstract
Food safety and hygiene issues gain increasing attention in people's daily lives and studies on the subject are crucial. The study aims to analyse the awareness of food safety and hygiene among students by applying a quantitative approach. A total of 381 questionnaires were distributed and collected within two weeks using convenient sampling. Four of the 381 questionnaires were void due to being incompetent or not suitable and inconsistencies in the answers, resulting in a 357 or 98.9% usable response rate. Data collection was performed made with assistance from others to distribute, collect, and analyse using statistical package for social sciences (SPSS) Version 24.0 software. The study discovered that food safety knowledge and hygiene significantly impacted student awareness of food safety. The results could provide information for food caterers and restaurant owners on the importance of food safety and hygiene. The study could also aid the Ministry of Health (MOH) to formulate strategies to enhance students' health across the country.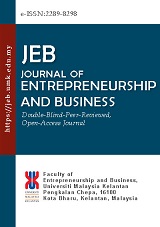 Downloads
How to Cite
Mohamed, M. ., & Patwary, . A. K. . (2021). Measuring Students' Awareness of Food Related Factors: The Role of Attitude, Price, Hygiene, and Food Safety . Journal of Entrepreneurship and Business, 9(2), 70–85. https://doi.org/10.17687/jeb.v9i2.803