Program Keusahawanan dan Prospek Kerjaya Pilihan Mahasiswa: Kajian di UKM
Keywords:
program keusahawanan, universiti penyelidikan, wajib universiti, prospek kerjaya
Abstract
This study aims to explore the pattern of career choice among students who have gone through various entrepreneurship programs at Universiti Kebangsaan Malaysia. This study used primary data involving 369 final year students of the 2013/2016 cohort from seven faculties. This descriptive study used a questionnaire as its instrument. Although there are several entrepreneurship programs with university compulsory status, faculty compulsory, compulsory program and residential college compulsory, the findings of the study show that students 'career choice patterns are more inclined towards salaried work, further education, and finally entrepreneurship. The findings of the study are expected because the respondents are a pilot cohort of entrepreneurship programs in universities where the entrepreneurship curriculum is still in its early stages and the pedagogy of teaching and learning still needs a lot of improvement. The clusters of students who showed the highest interest in entrepreneurial prospects were from the Faculty of Built Environment Engineering, the Faculty of Economics and Management, and the Faculty of Education. The implications of the study to be discussed are referring to the management and administration of programs and courses.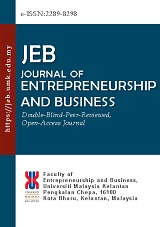 Downloads
How to Cite
Haron, A. A. ., Juhdi, N. H. . ., & Rahid, M. R. (2022). Program Keusahawanan dan Prospek Kerjaya Pilihan Mahasiswa: Kajian di UKM. Journal of Entrepreneurship and Business, 10(1), 115–129. https://doi.org/10.17687/jeb.v10i1.877