THE INFLUENCES OF LOCAL CULTURE(S) ON THE BUILDING FORM OF HISTORICAL CHURCHES IN PENANG
Keywords:
rupa bentuk bangunan, bangunan gereja bersejarah, budaya dan seni bina, building form, historic church buildings, culture, architecture
Abstract
Malaysia is well-known for being multicultural, consisting of three significant ethnicities, the Malays, Chinese and Indians, and the minorities such as the Middle Eastern and small European groups. This group of ethnicities mentioned eventually made their mark in Malaysia and can be easily distinguishable from their unique and distinctive cultural identities. Being a multicultural country, it will not elude having some cultural crossover. From an architectural perspective, the different cultures in Malaysia can be distinguished from their architectural building form, including the church buildings. So, this research has been carried out in Penang by observing and studying the historical church buildings. This study will attempt to identify local cultural influences on these historical church buildings through their building form. Five historical churches were handpicked from the rest of Penang to conduct this research. This paper will also present results from self-observations and the study of existing data from published books and research papers. After acquiring adequate knowledge of the various architectural building forms of churches, the findings will indicate that cultural factors play significant roles in the differences in designs of the historical church building form found in Penang. This study found that the Malay and Chinese cultures mainly influence Malaysian architectural forms.
Malaysia dikenali sebagai sebuah negara berbilang budaya yang terdiri daripada Melayu, Cina, India dan kaum minoriti lain seperti timur tengah serta sebilangan kecil bangsa Eropah dan Timur Tengah. Kepelbagaian etnik ini akhirnya telah mewujudkan perbezaan dan keunikan budaya di Malaysia sehingga hari ini. Kepelbagaian budaya ini seterusnya menjangkau ke sudut lain seperti seni bina bangunan gereja. Merujuk kepada aspek seni bina, satu kajian telah dilakukan di Pulau Pinang untuk mengenalpasti pengaruh budaya setempat ke atas bangunan gereja bersejarah berdasarkan rupa bentuk bangunan. Lima gereja bersejarah telah dipilih sebagai sampel kajian ini selain merujuk kepada penulisan dan juga penerbitan berkaitan. Kajian ini menggunakan kajian lapangan dan pemerhatian sebagai kaedah pengumpulan data untuk menilai pengaruh budaya setempat ke atas seni bina gereja bersejarah di Pulau Pinang. Kajian mencadangkan bahawa seni bina gereja bersejarah ini banyak dipengaruhi oleh budaya setempat iaitu budaya
Melayu dan juga Cina.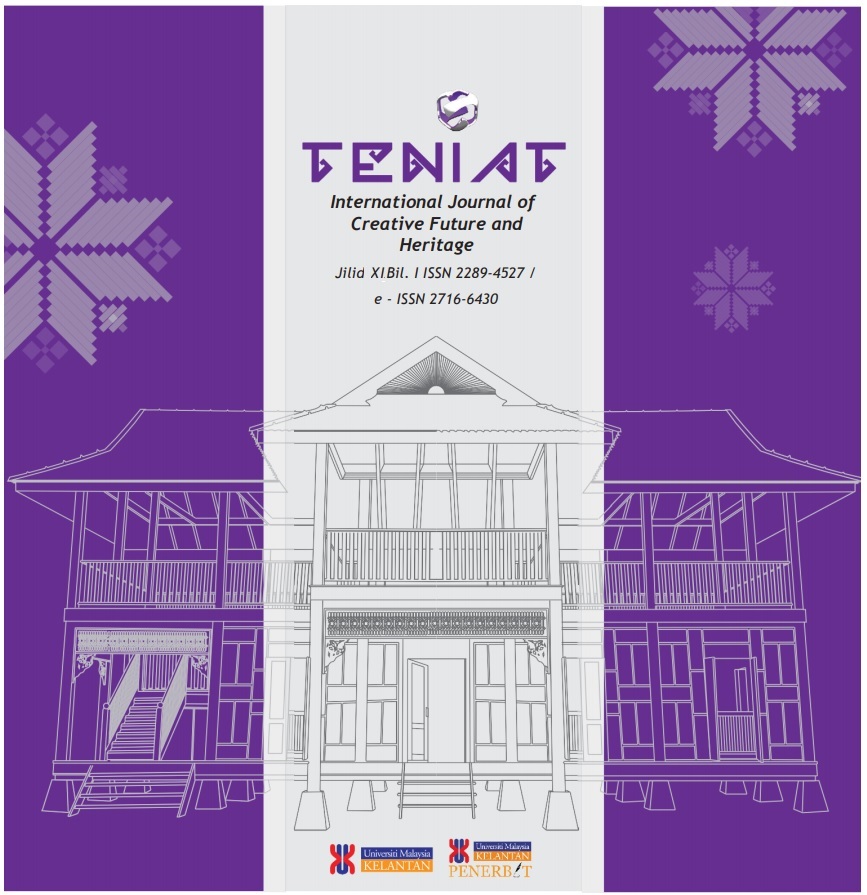 Downloads
How to Cite
ABDUL RAHMAN, M. B., MOHD JAKI BIN MAMAT, CHUA SHI YING, & ELIZABETH KWOH XIN WEI. (2023). THE INFLUENCES OF LOCAL CULTURE(S) ON THE BUILDING FORM OF HISTORICAL CHURCHES IN PENANG. International Journal of Creative Future and Heritage (TENIAT), 11(2), 50–63. Retrieved from http://journal.umk.edu.my/index.php/teniat/article/view/1011
License
Copyright (c) 2023 International Journal of Creative Future and Heritage (TENIAT)
This work is licensed under a Creative Commons Attribution-NonCommercial 4.0 International License.