INTERFACE DESIGN OF MOBILE CHAT APP BASED ON THE USAGE HABITS OF THE ELDERLY
Keywords:
Interface design, chat APP, the elderly, user experience, usage habits
Abstract
The design is based on the user's habits and needs. This design intends to improve the senior user's smartphone chat APP interface experience by merging the features of older users and addressing the issue that existing products do not take the elderly's usage patterns into consideration. Non-experimental design and qualitative research methodology are used in this study. To investigate the issues with current products, as well as the demands and pain points of consumers,  employ the methods of literature analysis, comparative research, case analysis, and interviewing. Then compile findings and use them to direct design practice. The findings suggest that the study's design, to some extent, fits the demands of the elderly in terms of utilizing smartphone chat APP and offering convenience in terms of physiological situations and cognitive habits. Allow the elderly to appropriately use APP functionalities and experience the speed and convenience that the information society offers. The design responds to the elderly's interpersonal convenience and emotional demands. The primary goal of this research is to improve the man-machine connection between the elderly and smart phones by developing a more user-friendly interface. It opposes the complexity created by the mass function accumulation of ordinary smart phones, and advocates the older user group as the reference standard, based on the real demands of the reasonable interface layout distribution, and in the visual aspect, to carry out a complete study and propose particular solutions. The finished product, particularly the interface, exemplifies simplicity, usefulness, and exclusivity. In addition to the emotional connection elements of the usage process, this product may provide a trustworthy, safe, and dignified interactive experience, such that an emotional connection between the older user group and smartphone goods can be developed, and a common value and meaning may be imparted.
Reka bentuk didasarkan pada tabiat dan keperluan pengguna. Reka bentuk ini bertujuan untuk memperbaiki pengalaman antara muka Aplikasi Perbualan telefon pintar bagi penggunapengguna tua dengan menggabungkan ciri-ciri yang biasa digunakan dan menangani isu bahawa produk sedia ada tidak mengambil kira corak penggunaan golongan warga emas. Reka bentuk ini bukanlah satu eksperimen, tetapi menggunakan metodologi kajian kualitatif untuk mengkaji isu-isu berkaitan dengan produk semasa, serta permintaan dan kesukaran pengguna melalui analisis literatur, perbandingan kajian, kajian kes, dan temubual. Penemuan-penemuan ini kemudian diatur dan digunakan untuk mengarahkan praktikal reka bentuk.Penemuan-penemuan ini menunjukkan bahawa reka bentuk kajian ini memenuhi keperluan golongan warga emas dalam menggunakan Aplikasi Perbualan telefon pintar dan menawarkan kemudahan dari segi situasi fizikal dan corak pemikiran. Reka bentuk ini membolehkan golongan warga emas menggunakan fungsi Aplikasi dengan lancar dan mengalami kelajuan serta kemudahan yang disediakan oleh dunia maklumat. Reka bentuk ini juga memberi tumpuan kepada kemudahan hubungan antara manusia serta tuntutan emosi.Matlamat utama penyelidikan ini adalah untuk meningkatkan hubungan antara manusia dan mesin bagi golongan warga emas dengan membina antara muka pengguna yang lebih mesra. Ia menentang kerumitan yang biasa ditemui dalam fungsi yang terlalu kompleks dalam telefon pintar biasa, dan memberikan sokongan kepada golongan pengguna yang lebih tua dengan mengambil kira kehendak sebenar mereka dalam reka bentuk antara muka yang lebih mudah digunakan dan visual yang sesuai. Produk yang dihasilkan, terutamanya antara mukanya, menunjukkan ciri kesederhanaan, kegunaan, dan keunikan.Selain daripada unsur emosi dalam penggunaan produk, produk ini mungkin memberikan pengalaman interaktif yang dapat dipercayai, selamat, dan membanggakan. Ini akan membantu membina hubungan emosi yang lebih kuat antara golongan pengguna yang lebih tua dan teknologi telefon pintar, serta menyampaikan nilai dan makna yang sama.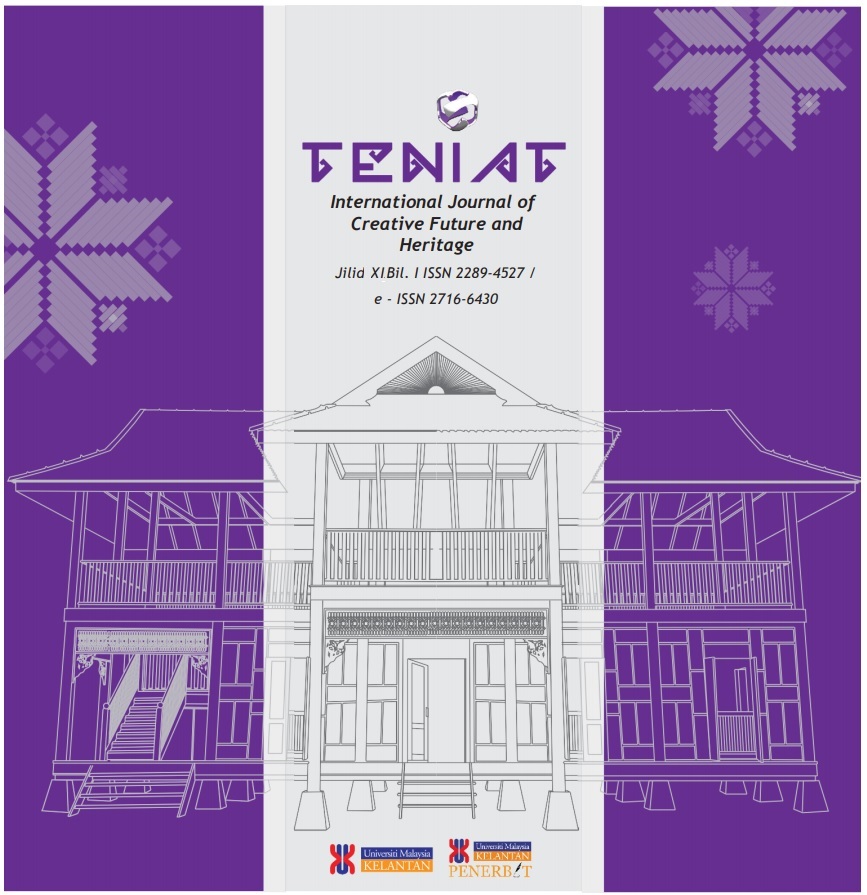 Downloads
How to Cite
DOLAH, J., & CUI WENHAO. (2023). INTERFACE DESIGN OF MOBILE CHAT APP BASED ON THE USAGE HABITS OF THE ELDERLY. International Journal of Creative Future and Heritage (TENIAT), 11(2), 20–49. Retrieved from http://journal.umk.edu.my/index.php/teniat/article/view/1022
License
Copyright (c) 2023 International Journal of Creative Future and Heritage (TENIAT)
This work is licensed under a Creative Commons Attribution-NonCommercial 4.0 International License.