SIMBOL PADA REKABENTUK MASJID MUHAMMADI, KOTA BHARU, KELANTAN: SATU PENELITIAN AWAL
Keywords:
Decorate, Design, Heritage, Mosque, Symbol, Masjid, Ragam Hias, Rekabentuk, Simbol, Warisan
Abstract
Abstrak

Simbol memainkan peranan penting dalam melihat keindahan nilai estetika sesuatu rekabentuk bangunan masjid. Ini kerana keunikan rekabentuk sesebuah masjid warisan banyak dipengaruhi oleh rekabentuk simbol yang dipilih yang mempunyai falsafah tertentu. Pemilihan simbol yang tepat menjadikan rekabentuk masjid lebih menarik dan cantik. Kajian ini bertujuan merungkai pemilihan simbol bagi setiap rekabentuk pada bangunan Masjid Muhammadi, Kota Bharu Kelantan. Simbol yang diambilkira dalam kajian ini adalah termasuk ragam hias, motif (flora dan fauna), geometri dan kaligrafi. Kaedah penyelidikan yang digunakan untuk mendapatkan maklumat ialah melalui kaedah pemerhatian. Kaedah pemerhatian ini digunakan bagi melihat ragam hias dalam rekabentuk Masjid Muhammadi. Hasil kajian menunjukkan simbol yang digunakan dalam ragam hias masjid warisan ini lebih menekankan kepada motif yang berunsurkan alam flora, kaligrafi dan corak.
Abstract
Symbol has an important role in appreciating the aesthetic value of a heritage mosque. The uniqueness of a heritage mosque is influenced by the selected symbols which have their own philosophy. A right selection can make the design of the mosque more attractive and more beautiful. This study aims to unravel the selection of symbols in the design of Masjid Muhammadi, Kota Bharu Kelantan. These symbols include decoration, motifs (flora and fauna), geometry and calligraphy. The research method used to obtain information is qualitative through observation. It is observed that the symbols used in the decoration of this heritage mosque are more of a motif based on the nature of flora, calligraphy and patterns.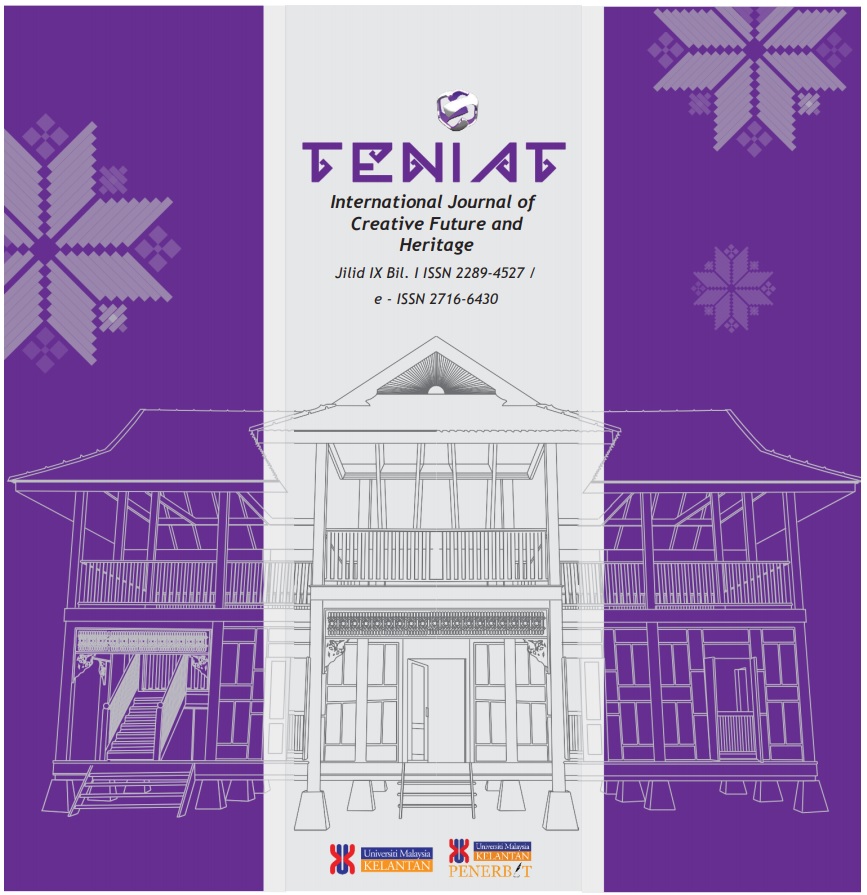 Downloads
How to Cite
HANIM SAIDI, N. N. ., MOHAMED ROSDI, N. ., & DAENG JAMAL, D. H. . (2021). SIMBOL PADA REKABENTUK MASJID MUHAMMADI, KOTA BHARU, KELANTAN: SATU PENELITIAN AWAL. International Journal of Creative Future and Heritage (TENIAT), 9(1), 94 - 108. https://doi.org/10.47252/teniat.v9i1.401
License
Copyright (c) 2021 Universiti Malaysia Kelantan
This work is licensed under a Creative Commons Attribution-NonCommercial 4.0 International License.