WEB 2.0 AS AN ONLINE FUN LEARNING TOOLS FOR HERITAGE STUDIES DURING PANDEMIC: COERCION OR CONSENT?
Keywords:
alternative learning, fun learning method, didik hibur, Google Docs, online learning, pembelajaran alternatif, teknik pembelajaran menyeronokkan, kaedah didik hibur, pembelajaran atas talian
Abstract
Abstract
This study evaluated the efficacy of fun online learning methods (FOLMs) in teaching and learning the Introduction to Cultural Heritage (SCM2223) course during the COVID-19 pandemic at Universiti Malaysia Kelantan, Malaysia. This study aims to understand the student's demographic background, awareness, and perception of using FOLMs in SCM2223 during the pandemic. It also uses quantitative and qualitative data collection through surveys and reports. A total of 149 from 211 students who took SCM2223 responded to the survey using stratified random sampling. The data were analysed using Statistical Package for Social Sciences (SPSS). Results highlight that students are ready to fully embark on full time FOLMs without feeling coerced during the pandemic as data triangulation shows that these methods enhance student understanding, comprehension and acceptance of the course. In addition, it increased student interest in learning and, more importantly, encouraged student cognitive behaviour towards the course content and improved overall satisfaction with online teaching methods. Finally, This study provides methods for improving new online learning alternatives, developing good course teaching evaluation reports, and achieving good course learning outcomes (CLO).
Abstrak
Kajian ini menilai keberkesanan kaedah pembelajaran dalam talian (FOLM) yang menyeronokkan dalam pengajaran dan pembelajaran kursus Pengenalan kepada Warisan Budaya (SCM2223) semasa pandemik COVID-19 di Universiti Malaysia Kelantan, Malaysia. Kajian ini bertujuan untuk memahami latar belakang demografi, kesedaran dan persepsi pelajar menggunakan teknik FOLM dalam SCM2223 semasa wabak COVID-19. Ia juga menggunakan pengumpulan data kuantitatif dan kualitatif melalui tinjauan dan laporan. Seramai 149 daripada 211 pelajar yang mendaftar kursus SCM2223 telah menjawab survei menggunakan persampelan rawak berstrata. Seterusnya data dianalisis menggunakan Statistical Package for Social Sciences (SPSS). Keputusan menunjukkan bahawa pelajar bersedia untuk memulakan sepenuhnya teknik FOLM tanpa rasa dipaksa semasa pandemik kerana triangulasi data menunjukkan bahawa kaedah ini meningkatkan pemahaman, dan penerimaan pelajar terhadap kursus SCM2223. Di samping itu, ia meningkatkan minat pelajar untuk belajar dan paling penting, menggalakkan tingkah laku kognitif pelajar terhadap kandungan kursus dan meningkatkan kepuasan keseluruhan dengan kaedah pengajaran dalam talian. Akhir sekali, Kajian ini menyediakan kaedah untuk menambah baik alternatif pembelajaran dalam talian baharu, membangunkan laporan penilaian pengajaran kursus yang baik, dan mencapai hasil pembelajaran kursus (CLO) yang baik.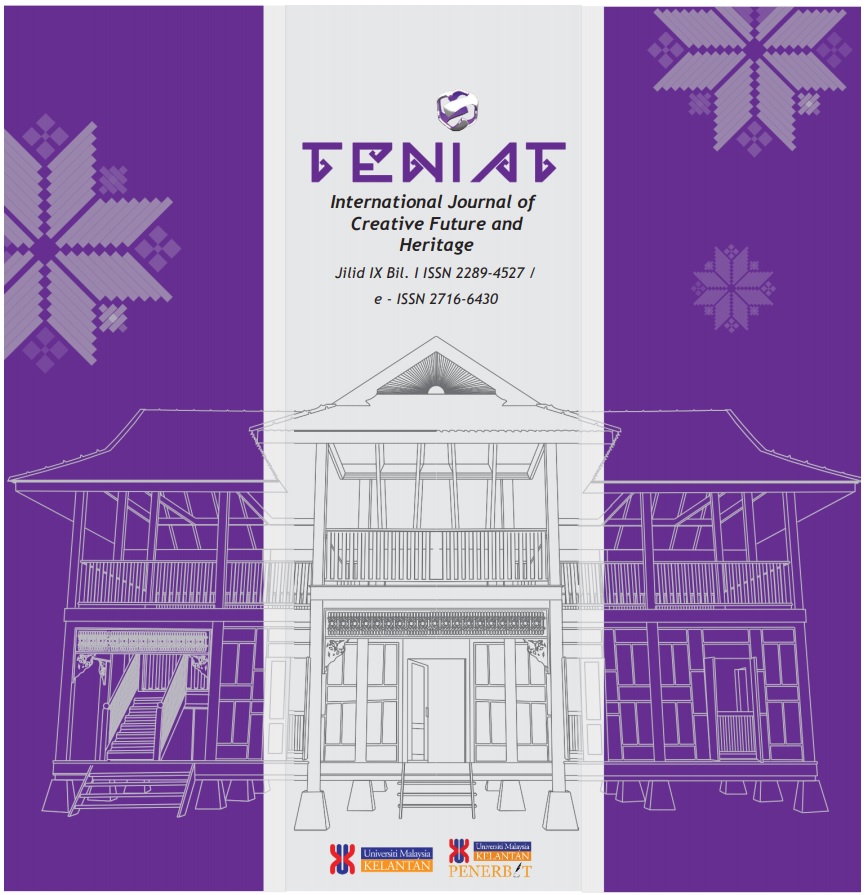 Downloads
How to Cite
SUKRI, S. ., RADZUAN, A. W. ., AB JABAR, N. ., MUHAMMAD APANDI, S. N. A. ., ABDUL LATEF, A. S., MOHD ZAIN, M. Z., HASBULLAH, S. W., & HAPIZ, H. Y. . (2022). WEB 2.0 AS AN ONLINE FUN LEARNING TOOLS FOR HERITAGE STUDIES DURING PANDEMIC: COERCION OR CONSENT?. International Journal of Creative Future and Heritage (TENIAT), 10(2), 99–114. Retrieved from http://journal.umk.edu.my/index.php/teniat/article/view/959
License
This work is licensed under a Creative Commons Attribution-NonCommercial 4.0 International License.