Social Media and Student's Learning Outcome: A case in South-East Asia
Keywords:
Social media, attitude, Malaysian youths, academic performance, ASEAN
Abstract
The study investigated the effect of social media on the academic performance among Malaysian youths of the ASEAN community by referring to technology acceptance model and theory of planned behaviour. It was believed that social media had caused the decrease in education standards and poor quality graduates. This study also examined the moderating influence of attitude on social media use and academic performance. The outcome of the study could help Malaysian government to consider proper educational and social policy decisions for better governance. A survey was conducted using proportionate stratified random sampling from three universities in Peninsular Malaysia. The data were analysed using descriptive statistics and hierarchical regression. It was discovered that the use of social media as a source of information for studies had a significant effect on the youths? academic performance in Malaysia. Therefore, the government and the management at universities should ensure that social media are mostly used for academic purposes by restricting the use of social media in the universities. It was suggested that the university may block other unimportant links and encourage students to use social media for academic issues such as assignments involving online journals. The scope of inquiry was limited to the Faculty of Business in the universities. Further studies need to look into social media usage by youths in secondary schools.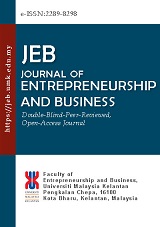 How to Cite
Ekpe, I. ., Ofeimun, G. O. ., Yaacob, M. R. ., & Abdul Rahim, M. N. . (2021). Social Media and Student's Learning Outcome: A case in South-East Asia. Journal of Entrepreneurship and Business, 6(2), 1–10. https://doi.org/10.17687/jeb.v6i2.427