The Influence of Customer Engagement on Emotion, Purchase Intention, and Positive User-generated Content (UGC) Spread on Instagram
Keywords:
Customer Engagement, Emotion, Purchase Intention, User-Generated Content, Instagram
Abstract
In the past, cognitive was found to be the main factor that influences a person to conduct online purchases, but the scenario has changed. Hence, customers need more than cognitive elements to attract them to online transactions. Besides, emotion plays an important role in influencing customers' online purchase behaviour, such as developing the intention to purchase and spread positive contents on the social network platform. Presently, Instagram is the most preferred platform among the young generation, and it has attracted many young women entrepreneurs (womenpreneurs) to be active on the platform. These womenpreneurs use Instagram not only to promote their brands and collections but they also fully utilise their personal accounts to stay connected with their followers. It is believed that customer engagement can touch one's emotion and influence behaviour. In this study, data (N=153) were collected using the convenience sampling technique among the followers of Datin Vivy Sofinas and Neelofar Md. Noor. The outcome of SmartPLS3 shows that customer engagement affects arousal more than pleasure which that could increase the likelihood to purchase and spread positive user-generated content (UGC). Moreover, pleasure was found to have no significant relationship with UGC spread. Overall, this study had provided interesting findings that could impact the future of social network entrepreneurs.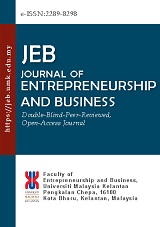 How to Cite
Bahtar, A. Z. ., Muda, M. ., & Abd. Razak, N. . (2021). The Influence of Customer Engagement on Emotion, Purchase Intention, and Positive User-generated Content (UGC) Spread on Instagram. Journal of Entrepreneurship and Business, 8(1), 120–130. https://doi.org/10.17687/jeb.v8i1.455