The Factors Determining Export Rationale of Protected Designation of Origin Companies?
Keywords:
European Union, fast moving consumer goods, private label;, protected designation of origin
Abstract
This study focuses on the context of Protected Designation of Origin (PDO), an area that has only been partially examined by a few studies in international business literature submissions. This study identifies the key determinants and proposes insights engaged with the Fast Moving Consumer Goods (FMCG) industry's export behaviour. It follows a qualitative case study approach and cross- examines a series of semi-structured in-depth interviews from both Small and Medium Enterprises (SMEs) and large enterprises as the unit of analysis. Findings unveil how the cornerstone of designation of origin firms is closely conjugated with the market regulator and is heavily influenced by the 'heredity' factor of the firms' size. In addition, the Private Label (PL) component is a crucial element of the export transaction. Similarly, despite the fact that PDO is the main vehicle for economic growth, firms suffer from a 'retrogressive nature' in terms of export development, as the State?s institutional intervention discourages internationalisation. This study is subject to limitations as with any qualitative research due to the difficulty of completing the transferability of findings.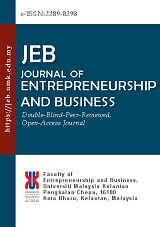 Downloads
How to Cite
Mandrinos, S. ., Al Mamun, A., AB Rahman, A. A. ., & Nik Mahdi, N. M. (2015). The Factors Determining Export Rationale of Protected Designation of Origin Companies?. Journal of Entrepreneurship and Business, 3(2), 64–73. https://doi.org/10.17687/jeb.v3i2.48