Vol. 3 No. 2 (2015): JEB DEC 2015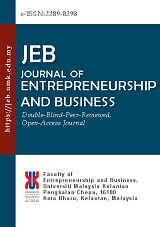 The Nexus between Economic Liberalisation and Economic Growth: Empirical Evidence from ASEAN, China, and India
Enhancing the Socio-Economic Wellbeing of Malaysian Local Women through Social Capital and Micro- Enterprise Performance
Board Size, Intensity of Board Activity, and Financial Performance of SMEs: Examining the Mediating Roles of Access to Capital and Firm Reputation
Do Corporate Social Responsibility Activities of Ghanaian Banks Influence Corporate Clients' Patronage?