Nature Or Nurture?: The Case of Entrepreneurship Education in Job Creation
Keywords:
entrepreneurship education, student motivation, graduate employability, TVET
Abstract
Student employability is a common issue faced by most Malaysian public universities as reported by the Ministry of Higher Education. The program structure of most undergraduate degree revealed that university graduates fulfilled practical courses such as entrepreneurship which should assist in reducing the unemployment rate among fresh graduates. However, each year, the annual report on employability presents similar scenarios where graduates do not suit the employee requirements or have failed as a job creator despite using the employability skills which they have attained. Thus, this study aims to identify the effectiveness of an entrepreneurship education course among TVET students besides determining suitable pedagogical approaches in entrepreneurship education. This study also attempts to outline the key factors of students' motivation in entrepreneurship involvement upon graduation. Data was collected by using semi-structured interview among 27 final year students based on their experience during participating in the entrepreneurship carnival. The thematic analysis was employed to identify related narratives recurring patterns or themes. This study generally found that students have some difficulty in applying entrepreneurship knowledge to a real situation. Therefore, educators should improvise their teaching method to a more current and suitable style to influence the student's motivation and intentions of becoming an entrepreneur. In addition, entrepreneurship education is an important program to aid the government in addressing unemployment. It also can facilitate graduates to become as a job creator besides as a job seeker.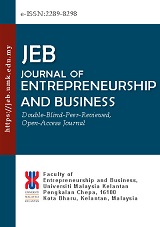 Downloads
How to Cite
Abdul Wafi, A., Mohamed, S. ., & Hanapi, Z. . (2022). Nature Or Nurture?: The Case of Entrepreneurship Education in Job Creation. Journal of Entrepreneurship and Business, 8(2), 1–10. https://doi.org/10.17687/jeb.v8i2.848