Using Digital Technologies by Human Resource Management During COVID-19: A Case Study of E-Office and E-Learning
Keywords:
covid19, digital technologies, human resource management, e-office, e-learning, Indonesia
Abstract
Digital Technologies (DTs) have been developed for employees of the Directorate General of Treasury (DGT) in Indonesia to help them access data and learn using e-office and e-learning. In Indonesia, the COVID-19 outbreaks have forced DGT employees to fully utilise DTs to work from home (WFH) during the government lockdown. This research employed a qualitative approach using a case study method. Moreover, five out of the fifty DGT employees in Banten Province were selected as informants via a purposive sampling method. Next, the five DGT employees shared their impressions of employing DTs during the COVID-19 outbreaks. In this study, the data analysis applied a semi-structured interview and organized a focus group discussion (FGD) with the informants. The findings showed that the e-office implementation plays a significant role in daily office activities and has become a means of WFH due to the COVID-19 outbreaks. This study is useful to support the implementation of e-office and e-learning. Furthermore, this study discovered that e-learning implementation had changed human resources management (HRM).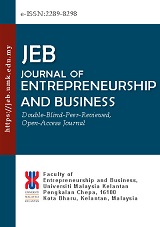 Downloads
How to Cite
Noor , J. ., Rahutami , N. C. A. ., & Ahmad, Y. (2020). Using Digital Technologies by Human Resource Management During COVID-19: A Case Study of E-Office and E-Learning. Journal of Entrepreneurship and Business, 8(2), 106–114. https://doi.org/10.17687/jeb.v8i2.856