Factors Influencing Customer Satisfaction In Using J&T Express Service Delivery During Covid-19 Pandemic In Malaysia
Keywords:
customer satisfaction, service quality, price, reliability, responsiveness
Abstract
On April 1, 2022, Malaysia transitioned from the Covid-19 pandemic's epidemic phase. The shift to the endemic phase, which allows Malaysians to resume a nearly normal life after two years of fighting the pandemic, is a strategy for exiting the situation. It has produced some unanticipated disruptions, exacerbated some pre-existing trends, and compelled us to make some adjustments to our way of life. Even after COVID-19 is no longer a public health threat, some of these modifications most likely will not disappear. Many of these changes, like the expansion of delivery options for customers and businesses, will be advantageous. Access to goods and services could be made simpler, which could raise everyone's standard of living. In Malaysia, the government urges to utilize the online services and delivery services such as J&T Express. J&T Express is well-known for providing logistical services, particularly in the areas of parcel and document delivery. The purpose of this study was to look into the factors that influence customer satisfaction, such as price, reliability, and responsiveness, when using J&T Express Service Delivery during the COVID-19 Pandemic in Malaysia. These factors are critical since customers are likely to remain satisfied till services become more enticing. The analysis was carried out using the Statistical Package for Social Science Software version 26 and an online survey questionnaire distributed to 150 respondents (SPSS 26). Descriptive analysis and multiple linear regression analysis were used to analyze the data. This study proves that responsiveness variable is the most influential factor influencing customer satisfaction in using J&T Express delivery service during the COVID-19 pandemic among customers in Malaysia. Therefore, J&T Express Delivery need to pay attention on the responsiveness element to ensure the quality of services provided to customers that can boost customer satisfaction.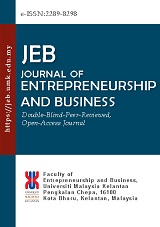 Downloads
How to Cite
Jaafar, N. N. A., Noor, Y. M., & Pazil, A. H. M. (2023). Factors Influencing Customer Satisfaction In Using J&T Express Service Delivery During Covid-19 Pandemic In Malaysia. Journal of Entrepreneurship and Business, 11(2), 35–44. https://doi.org/10.17687/jeb.v11i2.933