Relationship Between Informal and Formal Network Towards Entrepreneurial Intention Among Undergraduate at Public University
Keywords:
Entrepreneurial Intention, Informal network, Formal network, Networking, Public University
Abstract
For the reason that of its value for economic growth, job creation, sources of creativity as well productivity, entrepreneurship has recently received significant devotion. Thus, developing countries such as Malaysia are encouraging students to engage in entrepreneurship and see entrepreneurship as a career choice. It is commonly recognised that undergraduates are the significant source of potential entrepreneurs in the future. It is common knowledge that undergraduates are the essential source of burgeoning entrepreneurship in the future. The ability to network is one of the most crucial skills any entrepreneur can have. Hence, the purpose of this research is to examine the relationship informal and formal network towards entrepreneurial intention among public university undergraduate students. A total of 250 respondents of bachelor's Degree students participated in the survey. The empirical findings indicate that the informal network with moderate correlation and positive relationship with entrepreneurial purpose was found to be important. On the other hand, the relationship between formal networks was found to be significant with weak positive relationship towards entrepreneurial intention. Implication and future research direction are also discussed.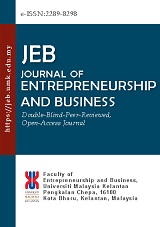 How to Cite
Kanyan, A., Kasuma, J., Koh, J., Yacob, Y., & Banting, R. (2021). Relationship Between Informal and Formal Network Towards Entrepreneurial Intention Among Undergraduate at Public University. Journal of Entrepreneurship and Business, 8(1), 59–70. https://doi.org/10.17687/jeb.v8i1.450